2022-10-19T00:00:00
How Shelf Ready Packaging (SRP Packaging) can increase sales

Shelf ready packaging (SRP) is designed to provide easy shelf replenishment whilst boosting a shopper's path-to-purchase.
Shelf ready packaging doesn't just make it easier for a store to display and restock your goods. It should also attract the shopper's eye, make them want to look closer and ultimately lift your product from the shelf and purchase it.
We're revealing how shelf-ready packaging has been proven to enhance and encourage a consumer's path to purchase.
Shelf ready packaging design requirements
Let's start by looking at the requirements for shelf ready packaging. According to the Institute of Grocery Distribution, SRP packaging should meet the '5 Easy' guidelines.
Easy to identify – clearly printed enabling store personnel to quickly find the product
Easy to open – easily opened in-store but robust enough to endure the supply chain
Easy to merchandise - simple shelf replenishment and optimisation of shelf space
Easy to shop – consumers can easily identify the product to shop
Easy to dispose – uses minimum material and can be recycled
By following these guidelines and taking a holistic approach to your packaging design, you can ensure your shelf ready packaging (SRP) meets the needs of the brand, the retailer and the consumer.
How can shelf ready packaging attract shoppers?
When looking to attract shoppers in a retail environment, making sure your shelf ready packaging is visible and recognisable is key.

Smurfit Kappa's shelf ready packaging can ensure your product stands out against competitors on a shelf. We do this by creating a stand-out visuals with strong structural design elements. This could, for example, involve contrasting shapes and colours coming together to create a design that is both distinctive from competitor products and desirable to consumers.

Your brand name and logo can sit pride of place on the front of the packaging in a large and clear format which will be hard for any passing customers to miss. This is important because research shows that it takes consumers just 3-5 seconds to look for and choose a product from the shelf.

So, to attract shoppers your SRP packaging should:
Show brand graphics: Use logo, icon and image to ensure clear presence on shelf
Use contrast, colour and shape: Create a stand-out design by applying structural and graphic design elements
Be different – Analyse what your competitors are doing on shelf and make your packaging distinctive
How can shelf ready packaging engage shoppers?

Having attracted the attention of the shopper in-store, your shelf ready packaging must then engage with shoppers and this is where likeability and navigation is key.

The design of your shelf ready packaging should work in harmony with the primary pack to reinforce the overall image. Having the primary pack visible, upright and correctly orientated (front facing) makes customers more inclined to take a look. Using 'emotional' graphics on the packaging, such as a human face or an animal, can also help draw a customer's eye.

Today's consumers crave convenience, so a shopper in a hurry will want and expect to know the main features of the product in an instant. Highlighting a user benefit or feature such as 'sugar-free', 'anti-aging' or 'anti-bacterial helps engage the shopper.

For brands who offer a range of variants such as different flavours or fragrances, make it easy for shoppers to find their desired variant.

So, to engage shoppers your SRP packaging should:
Be designed in-line with primary pack: Reinforce overall image, don't hide essential information on the primary pack
Boost product presentation: Make sure the primary pack is visible, upright and well-presented
Facilitate variety navigation: Make it easy for shoppers to find their desired variant within a wide range
Explain user benefits – highlight the main feature(s) of the product
How can shelf ready packaging convert a browser to buyer?

The ultimate role of shelf ready packaging is to convert a browsing shopper into a buyer of your product.

Having attracted and engaged with your product, the shopper should then be able to easily grab the product from the shelf and place into their basket or trolley. Your shelf ready packaging should therefore be designed to be 'Easy to Shop'.

The front of the shelf ready packaging can also be used for marketing messages that give a shopper a reason to buy. Messages such as 'Limited Edition' or '20% Extra' creates a sense of urgency and incentivises the shoppers to 'buy now'. Be careful however not to put too much information on the front of the packaging as you do not want to overload or confuse the shopper.

So, to convert browsers to buyers your SRP packaging should:
Be designed for easy take-out: Make it easy for shoppers to take the product from the shelf
Give a reason to buy (now): Use clear messages to create a sense of urgency
Avoid info overload: Only put relevant info for a purchase decision on the SRP front
Testing our shelf ready packaging
We can ensure our shelf ready packaging is going to be effective before it gets to the retailer's shelves. Our unique Store Visualiser tool simulates in real time how products would look in a 3D virtual store. This allows you to view your product next to your competitors and see for yourself how well it stands out.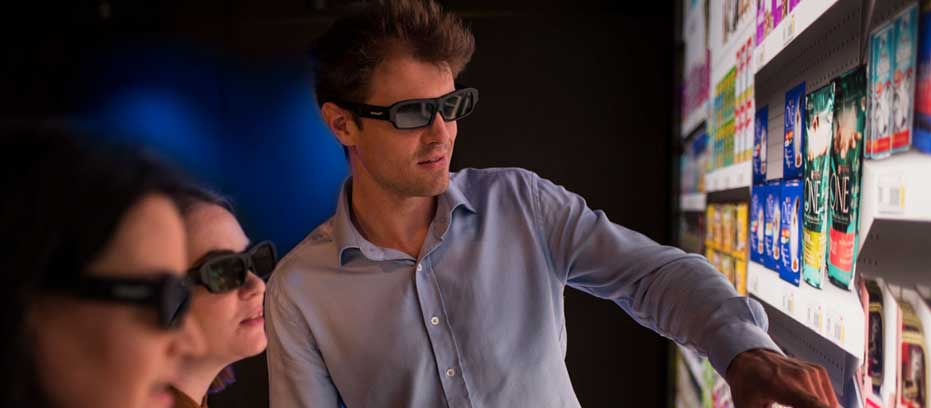 Meanwhile, our partnership with online eye-tracking company EyeSee gives us – and you – insight into how your disruptive packaging stood out to real-life shoppers. This is via a webcam in our virtual supermarket, and considering that up to 70% of customers decide what to purchase when in-store, this is a powerful tool for brands looking to sell in-store.
Looking for Shelf Ready Packaging Solutions?
At Smurfit Kappa, we understand the requirements of all major retailers around the globe. We have extensive experience in producing shelf ready packaging for all shelf units and pallet sizes. Our packaging is 100% recyclable and produced from a renewable resource.

Find out more by completing the form below.