2023-03-31T00:00:00
How sustainable is 'Bag in a box' packaging?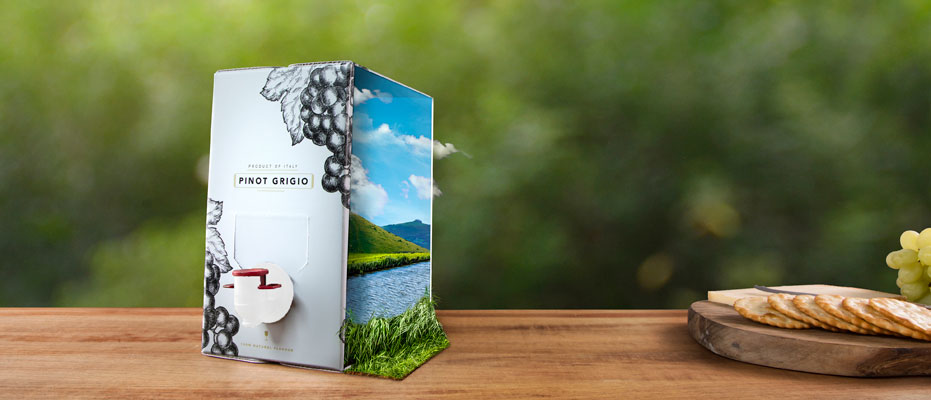 There's no denying that consumers are becoming increasingly focused on how their packaging choices affect the environment. That's why Smurfit Kappa is dedicated to finding innovative ways to help consumers make better choices regarding planet-friendly packaging. We are passionate about leading the way in providing the most sustainable packaging options for our customers.
Our Bag-in-Box® packaging (also known as 'Bag in a box' and 'BIB') is yet another of our sustainable packaging solutions, which can considerably reduce your packaging and the overall supply chain footprint. While today's focus is on the end-of-life of packaging, it is important to consider its whole life cycle, and not only end-of-life.
For over 45 years, Smurfit Kappa has pioneered the development of sustainable Bag-in-Box® packaging solutions having first registered the trademark in 1976.
Thinking out of the box with 'Bag in a box'
Bag-in-Box® is an ideal solution to protect liquid products with an effective barrier bag inside, a strong and protective paper-based outside packaging, and a convenient tap to dispense the liquid product while preventing oxygen access to the product. 'Bag in a box' comes in different sizes and compositions to contain various liquid products – from juice, water, and alcoholic beverages such as wine to detergents, edible oils, paint, and even body or home care products.
'Bag in a box' is highly efficient for storing and transporting products; it produces fewer carbon emissions than other materials, it's light and compact and contains less plastic than other types of packaging. The shelf life of the products is also much longer; it reduces waste and provides greater convenience to consumers. That means Bag-in-Box® is environmentally friendly throughout the product life cycle – great news for consumers who care!
Let's explore these brilliant 'Bag in a box' advantages in more detail:
Percentage of box that is fully recyclable
Lower carbon footprint than bottles
Shelf life after opening for wine
Plastic reduction of up to
Keeping your liquids fabulously fresh for longer with 'Bag in a box'
Bag-in-Box® is not a one-shot drink packaging. Did you know that Bag-in-Box® can be used for several weeks after opening? It offers up to 8 weeks of shelf life for wine once opened. So, no more having to use stale wine in your Beef Bourguignon! Thanks to Smurfit Kappa's ingenious design, air does not enter while dispensing, thus enabling the product to stay fresh for many months before opening and several weeks after opening.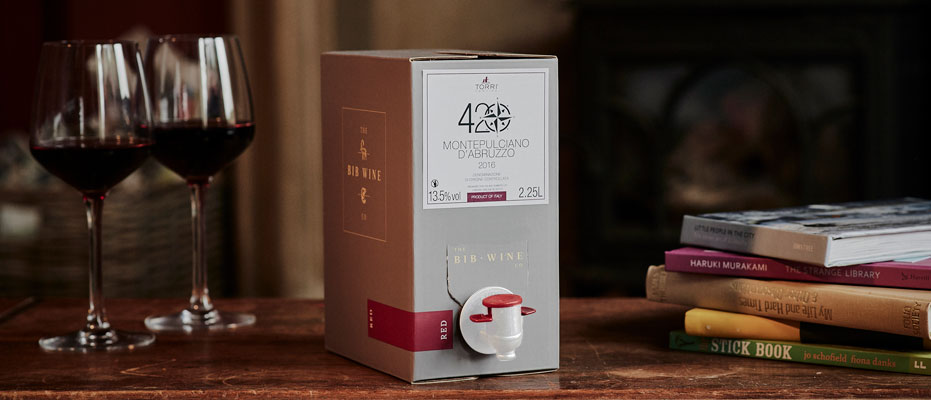 Bidding farewell to food waste with 'Bag in a box'
We're thrilled to be part of the global movement to reduce food waste. With 1/5 (source: U.N Report, 2021) of food wasted worldwide, Smurfit Kappa is committed to tackling this major global problem head-on with sustainable fit-for-purpose packaging solutions. Our innovative Bag-in-Box® prevents the contents from being wasted by optimally protecting the product before and during use to maximise the shelf life and enable consumption by the glass. As 90% of carbon emissions comes from packaged food, it is extremely important to fight against food waste.
Global Warming
Bag-in-Box® has a low impact on global warming, with an 8.8x lower carbon footprint than 75cl glass bottles.
Global warming occurs when carbon dioxide (CO2 ), other air pollutants, and greenhouse gases accumulate in the atmosphere and absorb sunlight and solar radiation that have bounced off the earth's surface. A carbon footprint is the amount of greenhouse gases—converted into "equivalent CO2 "—released into the atmosphere. An increase in greenhouse gas emissions is the primary factor associated with global warming, leading to the rise of sea level, mass species extinction and extreme weather.
Today, Life Cycle Assessments ("from cradle to grave") are the most comprehensive studies to evaluate the total impact of a piece of packaging on the environment. In a study conducted in 2018 by Alko Oy, Bag-in-Box® clearly shows the best results in terms of global warming potential. On average, 90% of the carbon footprint comes from the food packed and only 10% from the package (source Citeo). When a package prevents food spoilage, it's also better for global warming because most carbon emissions come from food production. The team at Smurfit Kappa can evaluate your current packaging and design optimal BIB alternatives to reduce your carbon footprint. Contact us to see how much CO2 emissions you could save by using a Bag-in-Box®!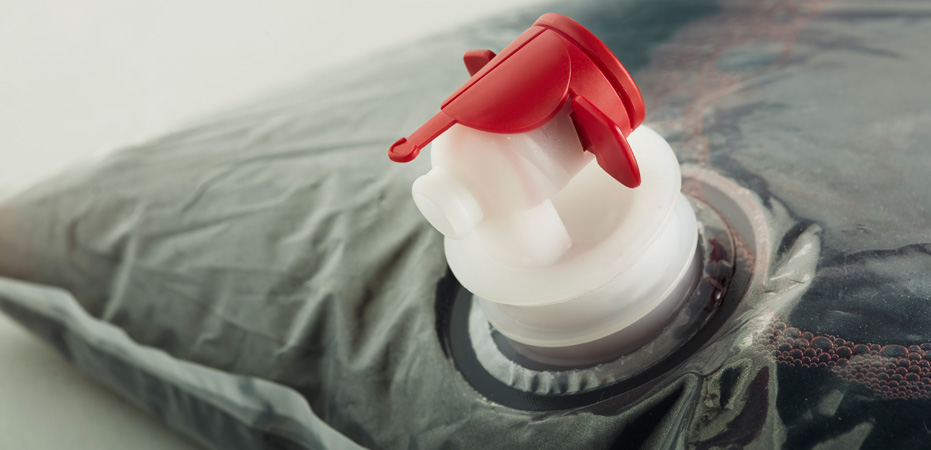 'Bag in a box' is an outstanding example of packaging weight reduction
One Bag-in-Box® of 10L weighs only 359g (59g bag and 300g box), whereas one metallic jerrican of 10L weighs 2.5kg. And 13.3 wine bottles needed to pack 10L of wine weigh up to 5.5kg, a staggering 15x more! We have compared our bags with rigid plastic containers usually used for the same product, and the plastic reduction is considerable. Based on the different packaging types we compared, Smurfit Kappa's BIB provides between 54% and 86% plastic reduction. According to Flexible Packaging Europe, a whopping 26 million tonnes of packaging materials could be saved if all food was packed in flexible packaging.
More than 75% of 'Bag in a box' is 100% recyclable
Over 75% of a 3-litre Bag-in-Box® package from Smurfit Kappa is made from light and fully recyclable corrugated cardboard (a paper-based material that is entirely renewable). In comparison, only 25% is composed of plastic, which in many cases can now be recycled in a number of European Countries. Corrugated cardboard is fully recyclable and biodegradable, and an incredible 85% of corrugated packaging is currently recycled in Europe. Our 3L plastic bag weighs only 35 grams. Our unique design ensures that the box and bag can be easily separated, as they should, facilitating the recycling of the corrugated box. Over 95% of our corrugated packaging is Chain of Custody Certified.
At Smurfit Kappa, we're always finding exciting new ways to increase the sustainability of our packaging solutions, which is why our Research & Development team is focusing on improving the recyclability of bags. We are currently testing new materials and compositions to maintain the high performance of Bag-in-Box® and to ensure we are following the recommendations of the plastic packaging resource management authorities. And, if you've ever wondered what to do with your empty Bag-in-Box®, the process couldn't be easier or more convenient. Simply:
Empty all the liquid (not too much of an ask in the case of your favourite vino!),
Remove the bag,
Flatten the box,
Pop it in with your recycling
Conserve water and energy with 'Bag in a box'
Another global concern is the excessive amount of energy and water used throughout the supply chain. Not only is this harmful to the environment, but it's also a major expense for companies. Smurfit Kappa is thrilled to provide advanced ways of limiting the consumption of these precious resources through our packaging solutions. Compared to other packaging types, the water and energy consumption for Bag-in-Box® production is relatively low. In a study conducted in 2018 by Alko Oy, Bag-in-Box® clearly shows the best results in terms of water and energy consumption.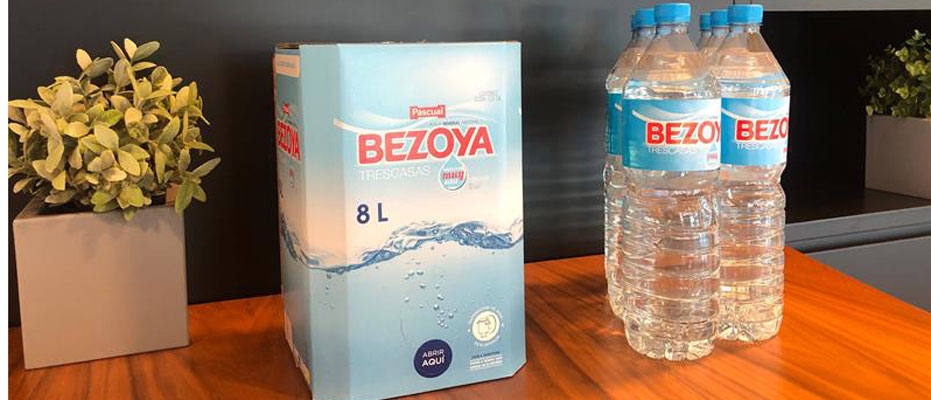 'Bag in a box' delivers considerable transport and storage savings
Empty packaging is delivered flat using very little space, and it is easy to palletise after filling. This leads to substantial savings in logistic costs and CO2 emissions. In a truck, 7,4 times more empty Bag-in-Box® packaging can be transported than bottles and 40% more filled packaging than glass bottles. For example, one truck transporting empty 5-litre bags and boxes is equivalent to more than 7 trucks transporting 75cL bottles. The Bag-in-Box® occupies a limited amount of space when stored thanks to its rectangular shape. It is easy and quick to place on shelf displays, enabling full use of the facing space.
'Bag in a box' is an anti-litter heavy hitter
One of the most tragic and impactful consequences of our consumer culture is the alarming amount of litter that our "throwaway" society generates! Fortunately, Smurfit Kappa is passionate about putting an end to this scourge with our sustainable packaging solutions. Bag-in-Box® is not among the plastic products frequently found in the environment, such as PET bottles or snack packs. Bag-in-Box® is usually consumed at home and disposed of in a dustbin after use. Unlike individual packaging consumed on the go, the risk of BIB polluting a forest or beach is limited. In fact, a very small amount of flexible packaging used in Europe is being littered, with a study from Flexible Packaging Europe in 2022 showing that less than 0.1% ends up as marine litter.
If you're ready to 'bag' all of these extraordinary benefits for your brand with sustainable 'Bag in a box' packaging solutions that guarantee maximum product protection and a superior customer experience, then speak to one of our friendly team today! Find out more about our Bag-in-Box® range here.