2022-02-18T00:00:00
A complete guide to flower packaging for eCommerce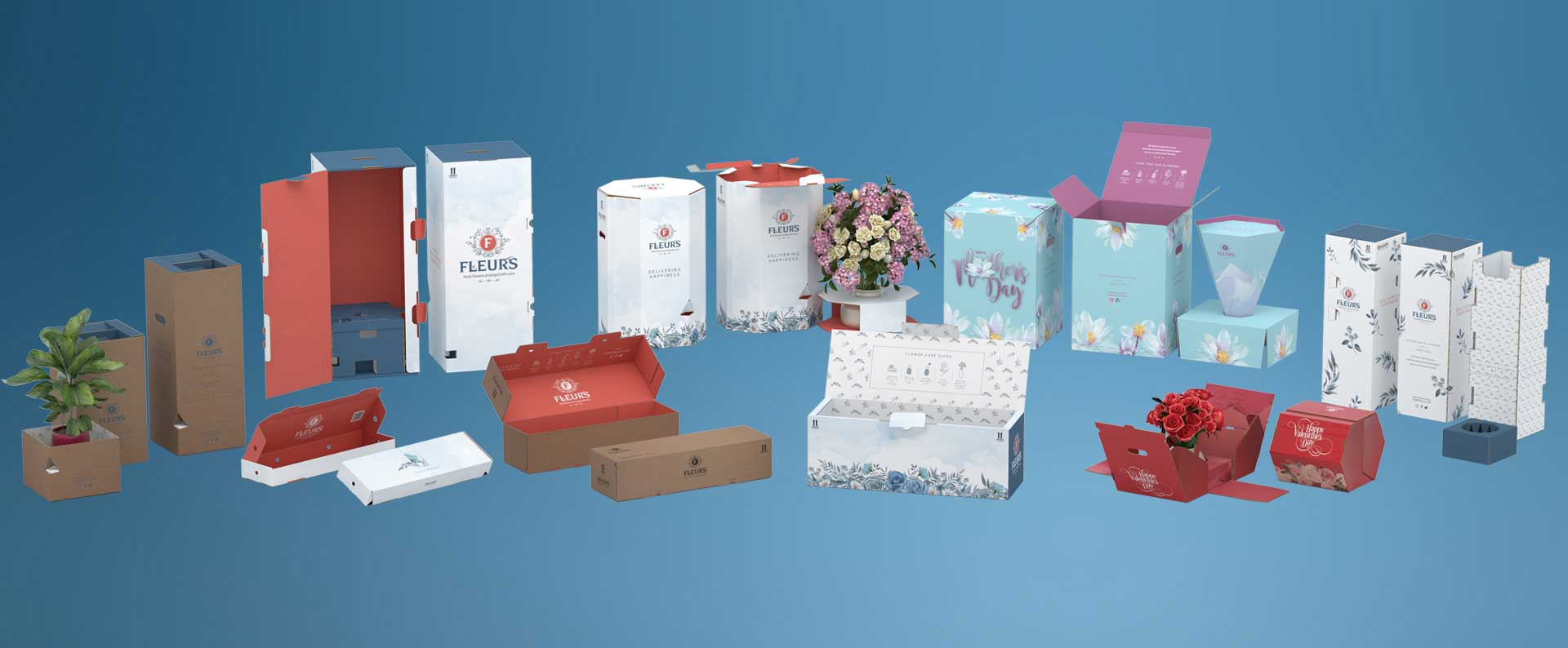 eCommerce has increased significantly in recent years, and the flower industry is no exception to this growing trend. Latest demand and consumer trends have adapted in recent years, and those in the floristry and potted plants market are in a good position to capitalise on these trends and turn them into new opportunities with eCommerce.

At Smurfit Kappa, we are specialists in helping eCommerce businesses grow and deliver their products safely, efficiently and sustainably. Our eCommerce solutions provide an unforgettable consumer experience, further enhancing your brand and leaving your customers satisfied. Read on for our complete guide to flower packaging for eCommerce.
The Rise Of eCommerce Flowers
It is estimated that the cut flower and potted plants market in Europe is around €27 million, and some of the biggest markets are in Germany, UK, France, and the Netherlands. The entire market was impacted by COVID, and eCommerce as a channel benefited greatly from this. European eCommerce across all industries has experienced 17% growth in 2021 compared with 2020, and this growth is expected to continue in the coming years. The online channel in the flower and potted plants market is relatively new but becoming massively important for businesses in this space.

eCommerce as a retail channel in this space makes up less than 10% of sales with considerable variation across the European landscape, but this is expected to increase to 30% by 2027. There are two key purchasing motives for cut flowers and potted plants, both of which will be further driven by the online convenience and direct to consumer nature of eCommerce.
Gift market is the most important for cut flowers, making up 40% to 70% of all flower sales, depending on the country. This is predominantly driven by occasions and events, such as birthdays, anniversaries, Valentine's Day, Mother's Day and more.
Personal use is the other main purchasing motive for the industry, and recently there has been a surge in businesses offering a subscription-based model to meet these demands. Subscription-based models offer convenience to consumers, as fresh flowers are delivered right to their doorstep on a regular basis.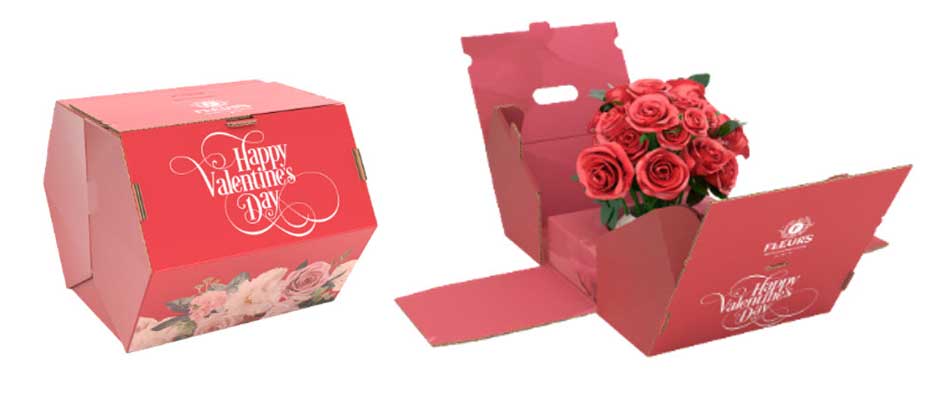 The key retail channels for cut flowers and potted plants are street markets, florist shops, big box retail, and online. Some of the reasons consumers are favouring eCommerce flowers over other channels are:
Convenience: Online shopping for all items offers enhanced convenience over traditional shopping. Consumers can instantly access a huge range of products, compare pricing, and shop at a time and place that suits them.
Audience: We are experiencing a shift in the kind of consumers shopping for flowers, and today's audiences are more prone to eCommerce solutions. Millennials are driving this force, and there is also a rise in digital seniors further pushing up online sales.
COVID: The COVID pandemic has forced consumers to spend more time at home and rely more heavily on eCommerce solutions. Businesses have been forced to adapt and offer direct to consumer solutions for items such as flowers and potted plants.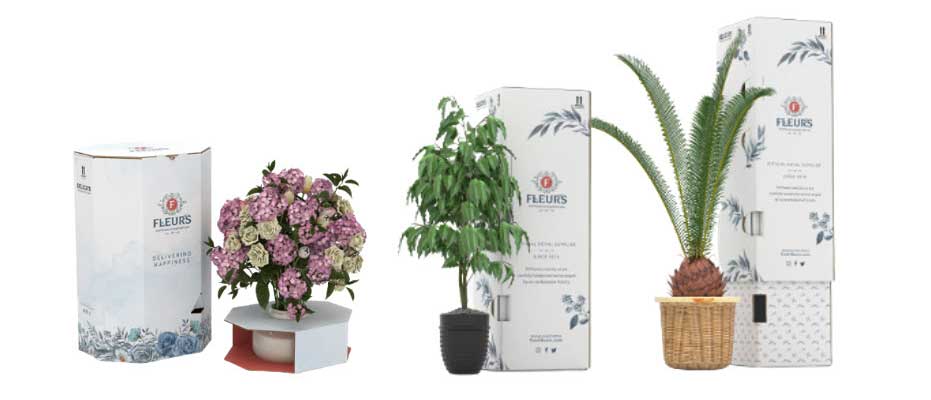 Key considerations for flower packaging for eCommerce
Packaging plays an incredibly vital role in the online cut flowers and potted plants market. It needs to be able to provide maximum product protection to keep these delicate items safe in transit, while also creating a memorable unboxing experience for the recipient. The right kind of packaging solutions for flower eCommerce add value to the products and open up new opportunities. Some key considerations for flower packaging for eCommerce are:
Fast Delivery: Due to the short lifespan of flower products, fast delivery is an absolute must for this industry. Consumers demand to receive these products quickly and failing to provide fast delivery can put the quality of the products in jeopardy. Businesses that are able to offer same day delivery can use this as a key selling point, and in some cases, consumers are prepared to pay over the odds for this convenience. There has been a huge rise in popularity of letterbox flower packaging, which guarantees a successful delivery at the first attempt. This is particularly valuable to businesses around peak times, such as Valentine's Day and Mother's Day. The right packaging can help increase efficiency around busy periods, with either manual boxes or automated assembled boxes.
Product Protection, Quality And Freshness: Smurfit Kappa consumer research revealed that more than 80% of consumers expect their parcels to arrive at the door in perfect condition. Using packaging which provides complete protection for flowers and plants is critical, particularly due to the delicate nature of these items. Many online flower companies offer the option to add additional products to deliveries, such as wine and chocolates, so packaging needs to be able to keep all these items safe in transit. At Smurfit Kappa, we offer a range of packaging solutions to keep flowers, plants, and extras protected. We can carry out rigorous testing to make sure packaging is fit for purpose.
Sustainability: Sustainability is a key consideration for all kinds of packaging today, and eCommerce flowers are no exception. Our research shows that 89% of consumers are irritated by voluminous waste, and 71% of consumers said that parcels should be easy to dispose of. We can provide packaging which can be adjusted to suit various product sizes, and our solutions are made from 100% recyclable materials.
Consumer Experience And Personalisation: Packaging is a vital touchpoint in the customer journey and when done correctly, can help your brand grow. Since many flower sales are for gifts and special occasions the unboxing experience is so important and must be memorable. Smurfit Kappa research found that 85% of consumers say that easy opening on packaging is important, so ensuring you are covering the basics can help create a positive brand experience. Consider offering personalised boxes for different occasions for an even better impact. You can create prints and designs which are occasion specific, or add unique messages for key dates such as Mother's Day, Valentine's Day and more. Think about additional experiences such as cross selling via QR codes. These features can be used to offer additional products at a special rate, or provide a discount off the next order.
Subscription Model: Subscription services for floral boxes are more popular than ever and having the right packaging for these regular deliveries is critical. Subscription deliveries need to be quick and easy, so letterboxable solutions are the best option. It is also important to choose packaging which is simple and effortless for your assembly team to pack, helping to streamline operations. The right packaging can help create a memorable customer experience, which is key to driving customer loyalty. When you are delivering a quality product in an efficient way, and creating a great unboxing experience, customers will return time and time again.

At Smurfit Kappa, we are specialists when it comes to eCommerce Packaging, and we have a range of solutions for the cut flowers and potted plants market. Explore our eCommerce flower packaging range, and contact our expert team for more information.