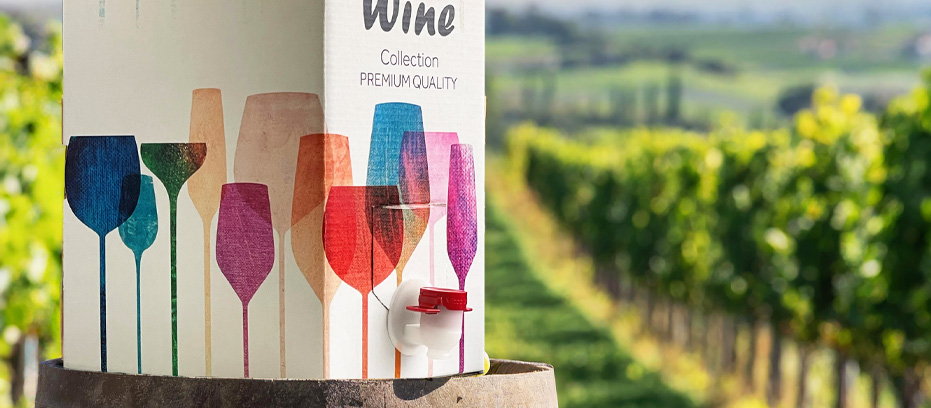 Bag-in-Box is a trendy packaging solution for wine
Vacuum-packed in a flexible, air-tight bag and placed in cardboard packaging, wine is protected from light and oxygen permeation and keeps its organoleptic qualities for long time. Wine can be kept fresh for several months before opening, and for 6 to 8 weeks after.
This packaging solution supports well the concept of responsible drinking and is perfect for drinking wine by glass. Bag-in-Box and Pouch-Up® meet all the current consumer expectations - freedom of consumption, ease of handling and transporting, value for money. Both wine producers and consumers appreciate environmental benefits of this type of packaging.
For wine we offer:
Transparent and non-transparent barrier films with specific characteristics for every need (O2, transportation, filling conditions, sustainability, etc.)
Vitop® Original, the tap that never leaks and well-known to consumers - Vitop® Natural also available in both original or compact version

A full range of exceptionally clean filling machines with the best Total Package Oxygen pickup values on the market, thanks to the innovative filling valve

SmartLife service to improve shelf-life and overall quality of boxed wine
Improve the shelf-life of your boxed wines with our SmartLife service
Products & Services
Packaging - All
Packaging - Retail
Packaging - Consumer
Packaging - Industrial
Packaging - eCommerce
Bag-in-Box Packaging
Displays
Packaging machinery
Containerboard
Paper & Board
Recycling
Market Sectors
Automotive
Bakery
Beverage
Chemicals
Confectionery
Consumer goods
Corrugated
Crisps Chips and Snacks
Dairy
Electronics
Fashion Clothing
Flowers
Food Cupboard
Fresh Produce
Frozen Food
Furniture
Health and beauty
Household cleaning
Industrial
Meat poultry fish
Other
Paper & packaging
Pet Food
Pharmaceuticals
Rubber and Plastics
Stone Clay and Glass Products
Tobacco
Country
Algeria
Argentina
Austria
Belarus
Belgium
Brazil
Bulgaria
Canada
Cape Verde
Chile
Colombia
Costa Rica
Czech Republic
Denmark
Dominican Republic
Ecuador
El Salvador
Estonia
Finland
France
Gambia
Germany
Greece
Guatemala
Honduras
Hungary
Ireland
Italy
Ivory Coast
Latvia
Lithuania
Luxembourg
Mali
Mauritania
Mexico
Morocco
Netherlands
Nicaragua
Norway
Panama
Peru
Poland
Portugal
Puerto Rico
Romania
Russia
Senegal
Serbia
Slovakia
Spain
Sweden
Switzerland
Tunisia
United Kingdom
United States
Venezuela