Bag-in-Box: a sustainable packaging solution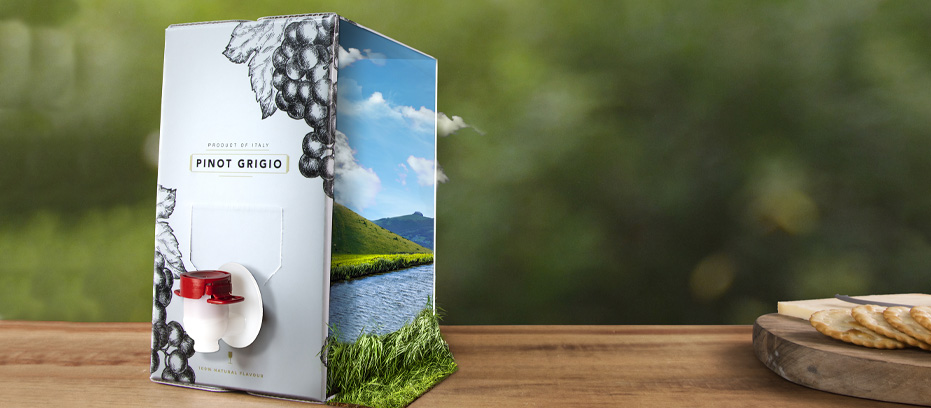 Best-in-class carbon footprint according to LCA studies
Today, Life Cycle Assesments are the most comprehensive studies to evaluate the complete impact of a piece of packaging on the environment.
In multiple studies conducted, Bag-in-Box clearly shows the best results in terms of global warming potential with an 8 times lower carbon footprint than glass bottles.
This is especially important as an increase in greenhouse gas emissions is the primary factor associated with global warming leading to the rise of sea level, mass species extinction, extreme weather, etc.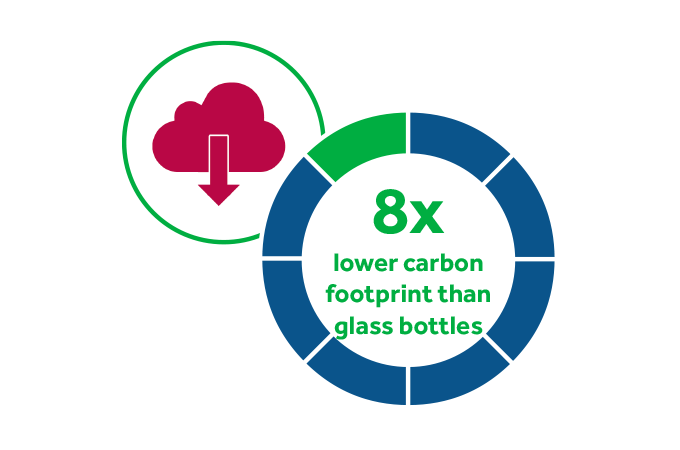 Bag-in-Box prevents food waste
By optimally protecting the product before and during use to maximise the shelf life and enable consumption by glass, Bag-in-Box prevents the contents from being wasted.
It is a major global problem, as a third of food is wasted according to the Food and Agriculture Organisation.
As 90% of carbon emissions come from the food packaged (vs 10% packaging), it is extremely important to fight against food waste!
Packaging weight reduction
According to Flexible Packaging Europe, 26 million tonnes of packaging materials would be saved if all food was packed in flexible packaging.
We have compared our bags with different rigid plastic containers usually used for the same product and the plastic reduction is huge - between 54% and 86% according to different packaging types compared.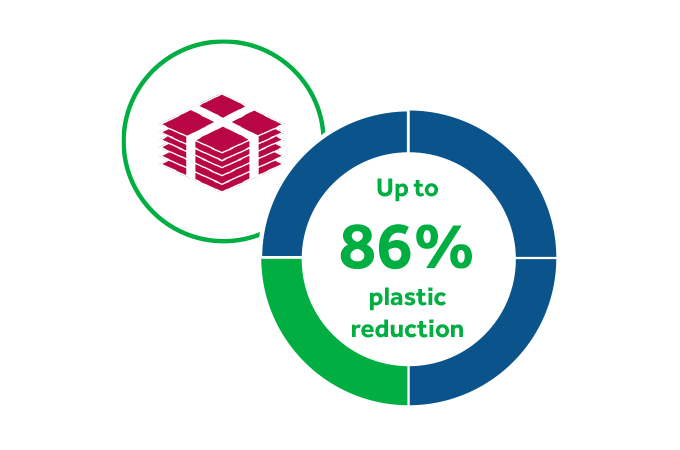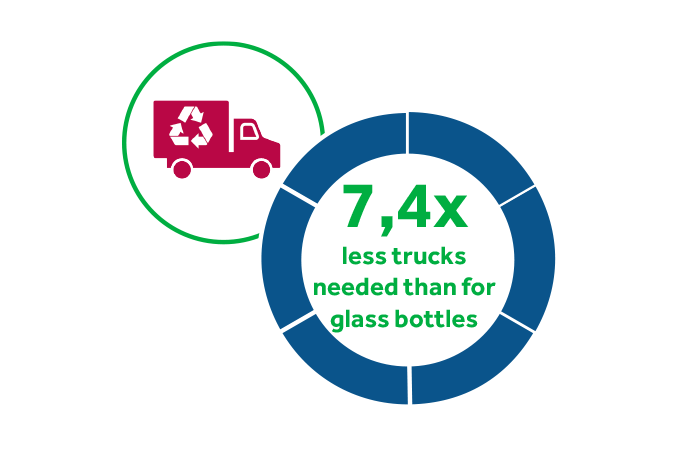 Transport and storage savings
Empty packaging is delivered flat using very little space and, after filling, is easy to palletise. This leads to substantial savings in logistic costs and CO2 emissions.
Bag-in-Box occupies a limited amount of space when stored thanks to its rectangular shape. For example, one truck transporting 5 litre bags and boxes is equivalent to more than 7 trucks transporting 75cL bottles.
75% corrugated cardboard
More than 75% of a 3-litre Bag-in-Box package is corrugated - fully recyclable, renewable and biodegradable - and only 25% is plastic.
85% of corrugated packaging is currently recycled in Europe. The box and the bag are easily separable, facilitating the recycling of the corrugated box.
The recyclability of the bag depends on the country and its collecting/sorting and recycling infrastructure. We are working together with our suppliers on new recyclable mono-material film structures to substitute plastics for which there are no recycling solutions today.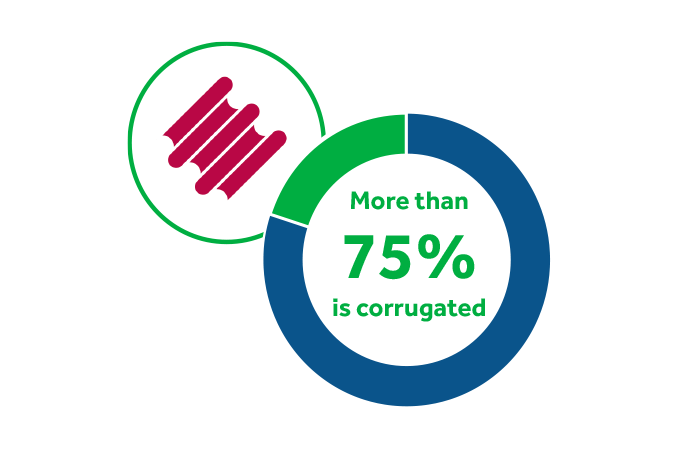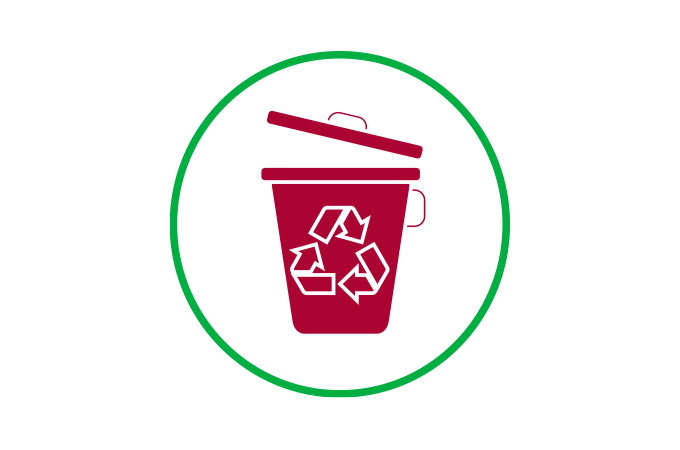 Does not become litter
Bag-in-Box is not among the plastic products frequently found on beaches or in the environment, such as PET bottles or snack packs.
In fact, Bag-in-Box is usually consumed at home and disposed in a dustbin after use. It is not individual packaging consumed on-the-go, therefore the risk of polluting a forest or a beach is limited.
Limited water and energy
Compared to other packaging types, the water and energy consumption for Bag-in-Box production is relatively low.
In a study conducted in 2010 by BioIntelligence, Bag-in-Box clearly shows the best results in terms of water and energy consumption.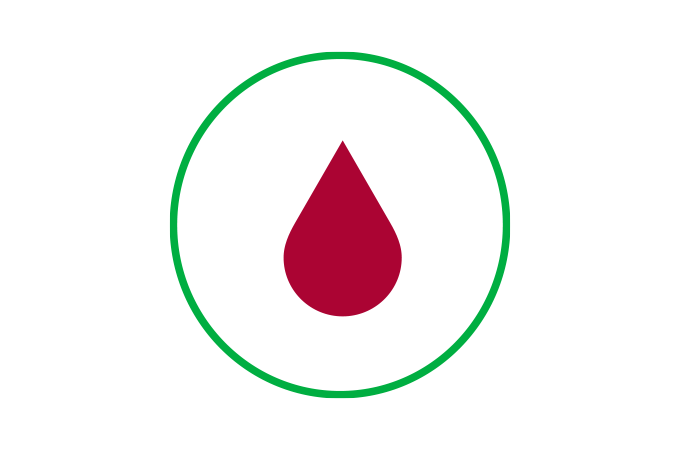 Watch our Bag-in-Box Sustainability videos!
Products & Services
Packaging - All
Packaging - Retail
Packaging - Consumer
Packaging - Industrial
Packaging - eCommerce
Bag-in-Box Packaging
Displays
Packaging machinery
Containerboard
Paper & Board
Recycling
Market Sectors
Automotive
Bakery
Beverage
Chemicals
Confectionery
Consumer goods
Corrugated
Crisps Chips and Snacks
Dairy
Electronics
Fashion Clothing
Flowers
Food Cupboard
Fresh Produce
Frozen Food
Furniture
Health and beauty
Household cleaning
Industrial
Meat poultry fish
Other
Paper & packaging
Pet Food
Pharmaceuticals
Rubber and Plastics
Stone Clay and Glass Products
Tobacco
Country
Algeria
Argentina
Austria
Belarus
Belgium
Brazil
Bulgaria
Canada
Cape Verde
Chile
Colombia
Costa Rica
Czech Republic
Denmark
Dominican Republic
Ecuador
El Salvador
Estonia
Finland
France
Gambia
Germany
Greece
Guatemala
Honduras
Hungary
Ireland
Italy
Ivory Coast
Latvia
Lithuania
Luxembourg
Mali
Mauritania
Mexico
Morocco
Netherlands
Nicaragua
Norway
Panama
Peru
Poland
Portugal
Puerto Rico
Romania
Russia
Senegal
Serbia
Slovakia
Spain
Sweden
Switzerland
Tunisia
United Kingdom
United States
Venezuela