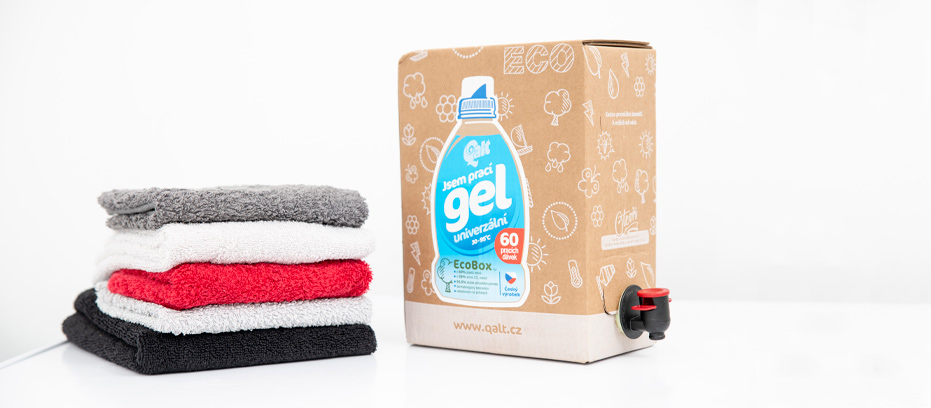 Bag-in-Box is an efficient and sustainable packaging solution when it comes to detergents
The Bag-in-Box is an efficient and environmentally friendly packaging solution for detergents. Composed of 75% corrugated box and only 25% of plastics, it offers a reduction of plastics used up to 70% compared to the traditional HDPE bottles.
In addition, the Bag-in-Box substantially cuts transport costs and optimises storage space. First, because it is shipped to our customers in flat. Secondly, even when filled, its rectangular form allows 65% more of products shipped in a truck compared to the traditional plastic bottle. Therefore, the Bag-in-Box significantly minimises the carbon footprint impact.

What's more, the ease of use of the Bag-in-Box strongly enhances the customer experience. It is easy to pour the right quantity of detergent directly into the washing machine, without any splash.
With the increasing popularity of refill stations, the Bag-in-Box is on demand to meet this new trend, and proves to be the convenient packaging choice for consumers.
For detergents we offer:
Reinforced specific bag structures with high flexibility, aroma and oxygen barrier

Tamper evident and reclosable screw tap designed for a high flow of product

A commissioning procedure in order to verify packaging and product compatibility, compliance to the customer logistic process
Products & Services
Packaging - All
Packaging - Retail
Packaging - Consumer
Packaging - Industrial
Packaging - eCommerce
Bag-in-Box Packaging
Displays
Packaging machinery
Containerboard
Paper & Board
Recycling
Market Sectors
Automotive
Bakery
Beverage
Chemicals
Confectionery
Consumer goods
Corrugated
Crisps Chips and Snacks
Dairy
Electronics
Fashion Clothing
Flowers
Food Cupboard
Fresh Produce
Frozen Food
Furniture
Health and beauty
Household cleaning
Industrial
Meat poultry fish
Other
Paper & packaging
Pet Food
Pharmaceuticals
Rubber and Plastics
Stone Clay and Glass Products
Tobacco
Country
Algeria
Argentina
Austria
Belarus
Belgium
Brazil
Bulgaria
Canada
Cape Verde
Chile
Colombia
Costa Rica
Czech Republic
Denmark
Dominican Republic
Ecuador
El Salvador
Estonia
Finland
France
Gambia
Germany
Greece
Guatemala
Honduras
Hungary
Ireland
Italy
Ivory Coast
Latvia
Lithuania
Luxembourg
Mali
Mauritania
Mexico
Morocco
Netherlands
Nicaragua
Norway
Panama
Peru
Poland
Portugal
Puerto Rico
Romania
Russia
Senegal
Serbia
Slovakia
Spain
Sweden
Switzerland
Tunisia
United Kingdom
United States
Venezuela