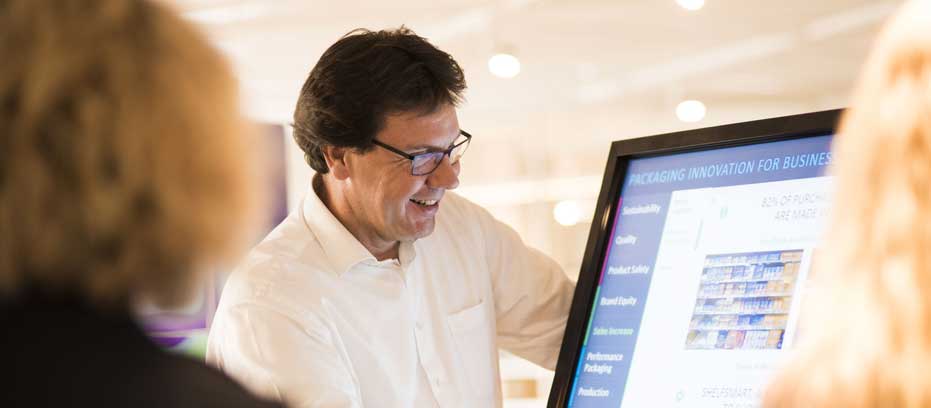 Our worldwide Experience Centres are a way for us to share knowledge with customers and help them gain real business value from hands-on experience.
There are over 25 Smurfit Kappa Experience Centres around the world. Customers come to explore how paper and packaging can meet their business needs, learn from leading behavioural insights, analyse supply chain trends and observe our advanced paper and packaging design tools.


Six ways you can benefit from a visit
1. Keep an eye on actual product performance

Each Experience Centre is complete with our Shelf Viewer tool, an interactive touchscreen database of nearly 70,000 images from a variety of real retail shelves around the globe. Look at shelf configurations and layouts to see how you can improve the category performance of your product, as well as evaluating the visibility and brand recognition of competitor products against your own.

2. Get exclusive access to our market-leading insights

We've been collecting in-depth data on all areas of packaging within our business for many years, and when you visit one of our Experience Centres, you can gain exclusive access to insights on whatever topics interest you via our Innobox stations. Use the interactive touchscreen units to explore and analyse trends, view case studies and browse information on everything from supply chain logistics to store display designs.

3. See your packaging prototype in market

The average in-store experience lasts around 20 minutes in total. Shoppers make an average of 15 purchases per store visit, choosing each product they buy in just 12 seconds. So getting your pack design right is absolutely vital.

But it's costly to develop and print alternative packaging designs, and to evaluate their in-store standout. Our store visualiser allows you to view your packaging prototypes in a fully simulated store environment, so you can assess their on-shelf impact before you commit any print budget.


4. Work with us to discover new ways to improve your packaging

Take some time to conduct an evaluation of your own packaging in our Inspiration and Brainstorm Rooms, and we can help you discover how subtle changes to things like packaging design, material composition or palletisation could deliver significant business impact. If you're feeling inspired by particular case studies or examples, we can help you create a 'moodboard' of solutions you'd like to investigate further.


5. Learn from our successes – and our mistakes

At our ISTA certified lab we rigorously test paper, board and pack performance throughout the supply chain. Our expert's stress-test packaging in all different transport simulations and climates, and these leading logistics insights are brought alive for you and will inform the design and optimisation of your own packaging.


6. Be inspired by our exhibition

Try seeing things from a different perspective by browsing our exhibition of packaging, with examples from a whole range of sectors all over the world – along with the results they've delivered. From browsing our Red Dot award-winning designs to learning about market-leading sustainability innovations like our Rofire fuel pellets, see if our exhibits can help spark the inspiration for new ideas that can help build your business.



Pay us a visit
If you're already one of our customers and you're interested in taking a tour around one of our Experience Centres, please get in touch with your usual contact. If you're new to us, please click on the 'Get in touch' button below and fill in your details to arrange a visit.