2022-08-23T00:00:00
Smurfit Kappa's 10 Most Popular eCommerce boxes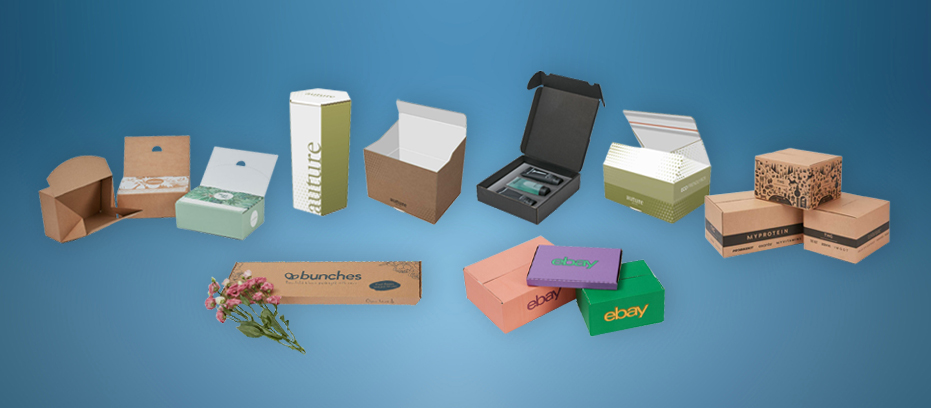 As a leading manufacturer of eCommerce boxes, serving over 64,000 customers, Smurfit Kappa's experience and expertise in eCommerce means we can provide exactly the right packaging to meet your product, supply chain and branding needs.

We design flexible, easy-to-pack eCommerce boxes that eliminate the risk of product damage in transit to ensure your products arrive in perfect condition, every time. We also help our customers to stand out in a crowded market and deliver memorable unboxing experiences to their customers.

Based on our extensive eCommerce packaging knowledge, we've ranked the ten most popular eCommerce boxes to give you an insight into which pack styles are commonly being used.
10 Most Popular eCommerce boxes
1.

Standard eCommerce Boxes
Standard eCommerce boxes are one of our most popular options as they can be assembled in seconds and are designed with the exact strength to perform across the supply chain. You can add a high-quality print finish to ensure your branding always stands out from competitors. Plus, they're FSC® certified, 100% recyclable and made from a renewable resource.
2.

Pizza Style eCommerce Boxes
Pizza-style eCommerce boxes are an effective protective packaging solution which can be tailored to meet your online distribution needs. Supplied flat pack, our pizza-style boxes are easy to store. Thanks to their hinged lid and tuck-in flaps, they're quick to assemble and are self-interlocking. Fitments and buffering can be added providing additional security during transit. With the option of additional high-quality print finishes, you can bring your brand to life with every package delivered.
3.

Postal eCommerce Boxes
If your business relies on national and international couriers such as DHL and FedEx, Postal eCommerce boxes are designed with you in mind. Postal boxes are optimised to specifically meet the delivery size guidelines of your courier, ensuring your shipping/postage costs are minimised. Postal packs are strong, durable and able to withstand the rigours of eCommerce distribution.
4.

Crash Lock eCommerce Boxes
Crash lock boxes are commonly used in the eCommerce sector as they provide one of the fastest and efficient forms of manual packaging assembly. Assembled in one quick action, the base of the box automatically interlocks without the need for tape or adhesives, reducing packing and assembly time and providing cost savings. Boxes can be adjusted to the content's height, minimising void fill, and are 100% recyclable and sustainable.
5.

Multi-Depth – Adjustable eCommerce Boxes
Minimise your packaging inventory by using multi-depth eCommerce boxes which adjust in size to perfectly fit your shipping needs. Multi-depth boxes are cleverly designed with multiple creases/pre-made scores on the sides of the box allowing you to adjust the size. By simply folding down the crease at your desired height and tearing/down the corners, you can quickly create your own custom-size packs.
6.

Hexagon eCommerce Boxes
Boost your brand by choosing hexagon eCommerce boxes. With a unique and eye-catching design, our hexagon packaging can create an exclusive and premium experience with every package delivered. Our glossy print finishes can be printed on all six sides and both end surfaces, providing ample opportunity to create and enhance your brand unboxing experience. Quick and easy to erect, we supply them flat-pack to boost storage space and lower your costs. 100% recyclable, 100% sustainable.
7.

Retention eCommerce Boxes
Retention packs securely fixes goods within a pack by using only paper-based materials such as corrugated inserts, hexacomb fitments or self-sealing paper pack. This mono-material solution prevents movement of pack content and absorbs shock when shipping, ensuring your products are well protected all the way to their final destination.
8.

Returnable eCommerce Boxes
Research by eCommerce management platform Narvar found that 95% of online shoppers would return to a retailer who offered an easy to return packaging experience. Using returnable eCommerce boxes allows you to build consumer loyalty and confidence by providing an easy opening and stress-free return experience. These 100% recyclable boxes can be manufactured with bespoke prints and sizes exclusively to suit your product.
9.

Letterbox Size eCommerce Boxes
Letterbox-sized boxes are perfect for any business with eCommerce goods that can be delivered without recipients needing to be present. Supplied flat pack and easy to store, the letterbox size eCommerce boxes have a hinged lid and simple tuck-in flap design making it easy to assemble. The boxes are self-interlocking so only a security seal is required to safeguard the products during the final mile delivery.
10.

Book Wrap eCommerce Boxes
Book wrap eCommerce boxes are perfect for any business that distributes goods such as books, CDs, DVDs, games, etc., through the post. Available in standard and bespoke sizes, prints can also feature inside and outside the packaging, and as always, our packaging is 100% recyclable and sustainable. Our unique quick rip and peel opening experience can add to and improve the customer experience.
Contact Smurfit Kappa
If you have any packaging needs or would like to speak to one of our friendly Smurfit Kappa experts about eCommerce boxes, please complete the form below.