2015-11-06T12:00:00
Smurfit Kappa wins coveted global design award alongside the creative industry's best-in-class
Smurfit Kappa has received a prestigious Red Dot Award 2015 for its innovative 'Protective Wings' packaging solution designed in partnership with technology customer Acer.
One of 7,451 entries to the Communication Design category of the 2015 competition, Smurfit Kappa's clever solution to ship Acer devices beat tough competition to be awarded the globally-renowned quality seal for design alongside 568 other projects.
Tech companies often rely on complex, multi-part packaging with synthetic components. Acer wanted to change that. They challenged Smurfit Kappa to find a way of returning repaired tablets and laptops to customers in a simple, sustainable way. Rolf Krajcer, Smurfit Kappa Sarstedt, and Jolanta Mirowski, Smurfit Kappa Service, responded with an innovative design called Protective Wings, under the project lead of Frauke Bausch.
The new Protective Wings pack is constructed from a single piece of FSC® certified corrugated board, using specially folding wings as a buffer zone to lift and protect the device from free-floating during transport. The outside of the erected pack is minimalist, but its uses are diverse as different versions suit the shipment of a variety of different devices, from tablets to laptops and smartphones.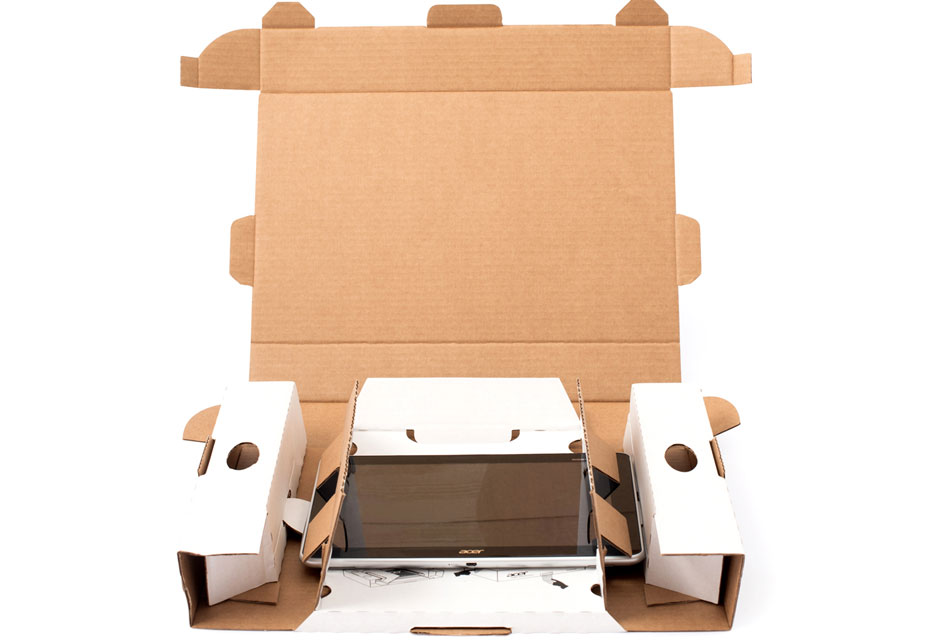 Simple assembly also means packers can build up to 120 tablet boxes per hour – three times more than before – while it has reduced damages caused in transit to zero. Overall, it uses 36% less material and costs less to produce than the previous Acer packaging.
"Sustainability and high quality standards are firmly anchored in Acer's business culture", said Wilfried Thom, Acer Region Manager Central Europe. "In cooperation with Smurfit Kappa, we have developed a suitable form of packaging for our product return shipment service which offers an innovative design, sustainable materials and excellent convenience. Along with the tremendous feedback from customers, the receipt of the Red Dot Award for the packaging concept is a particularly valuable acknowledgement of our constant endeavours in the field of sustainability."
Boris Maschmann, CEO Smurfit Kappa Germany, added: "The Protective Wings design is the perfect example of a deceptively simple piece of packaging that's the result of a collaborative process inspired by innovation and expertise. It's fantastic that the Acer project led by Frauke Busch, Sales Manager at Smurfit Kappa Service, has received a Red Dot Award; we're immensely proud the work of the team has been recognised alongside the best creative design talent in the world."