2022-06-29T00:00:00
Smurfit Kappa UK further support IMART Platinum sponsorship
Smurfit Kappa were proud to be named as the Platinum sponsor for this year's International Mixed Ability Rugby Tournament (IMART) in Musgrave Park, Cork. To further support the group-wide sponsorship, Smurfit Kappa UK reached out to our UK teams offering additional support for many of the participating teams.
Rugby welcomes everyone to the pitch
The largest international mixed ability rugby tournament to date, this year's IMART took place between the 5th and the 10th of June. The incredible event had 28 teams from over 15 countries participating, and for the first time, four women's teams competed in the 28-team tournament.Huge congratulations are in order to Sunday's Well Rebels and El Salvador after they triumphed to win the men's and women's IMART World Cup, respectively. El Salvador etched their name in the history books as the inaugural IMART Women's World Cup winners.
Smurfit Kappa - IMART Platinum sponsors and supporting UK based participants
It was a great privilege to be named as a 'Platinum' sponsor of the IMART tournament this year.

Smurfit Kappa Beacon, Smurfit Kappa Chesterfield and Display UK were given the opportunity to link up with some of the UK teams prior to the tournament. Smurfit Kappa Beacon were on hand to give out goodie bags and water bottles to the Surrey Chargers squad while Display UK did the same with local team Bumble Bees RUFC and Smurfit Kappa Chesterfield General Manager Alex Bissett lent his support to the Derby Bucks team during a pre-tournament training session.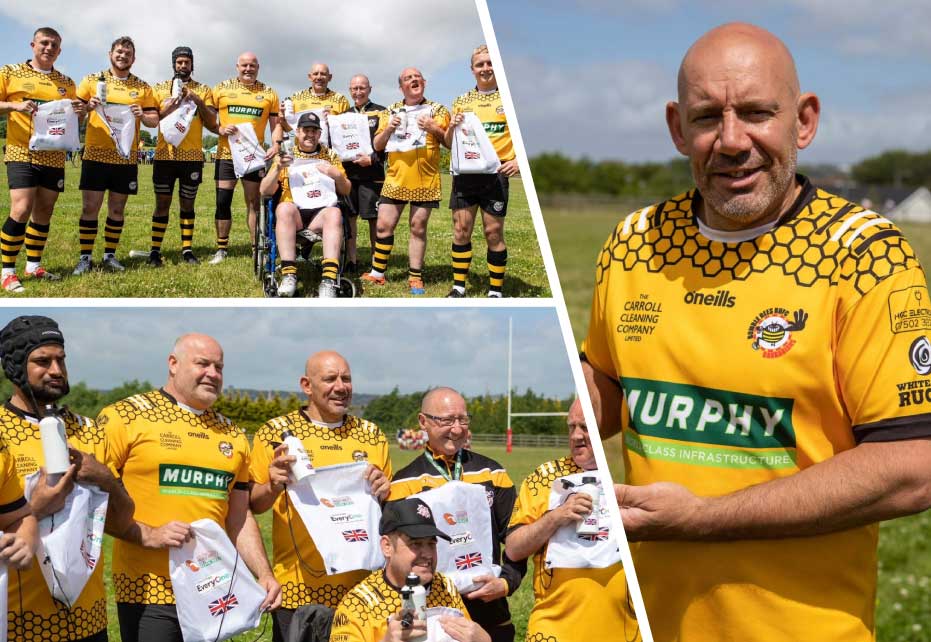 Other teams who received support from the Smurfit Kappa UK family included Halifax Magpies, Worcester RFS, Longlevens Mixed Ability RFC, Rhyfelwyr Llanelli Warriors, Swansea Gladiators, and Edinburgh Rugby MA.


IMART creating new experiences and building new friendships
This year's IMART was the most exciting tournament yet, there were more than 840 players, 1000 participants, and 28 teams that travelled to Cork from 15 countries worldwide.

Everyone who took part, whether volunteering, competing, or supporting vocally from the stands, ensured this year's tournament was entertaining, competitive, and always held in the true spirit of rugby.

Friendships were created, memories were made, and everybody can consider themselves champions, one and all.

General Manager of Smurfit Kappa Beacon, Steve Burns, said: "Smurfit Kappa Beacon are pleased to have been able to support local UK team the Surrey Chargers in this year's tournament. Inclusion and diversity is something we are extremely passionate about. Huge congratulations to both winning teams, El Salvador and Sunday's Well Rebels. We can't wait for next year's tournament."


Smurfit Kappa believes in progression, inclusion, and diversity
One of Smurfit Kappa's core beliefs as a progressive and inclusive employer is a responsibility to our people, our environment, and every country we operate in.


Part of the EveryOne global initiative
Our global initiative "EveryOne" which was launched in 2018 has been welcomed in the UK, Europe and the Americas. Its aim is to create a more inclusive work environment across the Group.

Everyone focuses on five community groups each spearheaded by senior management covering disability, gender, family & age, origin, race and ethnicity and LGBTQ+.

Launched at Smurfit Kappa's European Management Conference in Berlin in September 2021, the 'EveryOne' initiative saw more than 350 employees join forces to sign a unique pledge wall. A powerful commitment to ensuring a continued push towards company inclusivity and diversity.

2022 saw the launch of RISE, a development programme designed to uniquely support the development of our female employees.


Become part of the Smurfit Kappa UK family
If you've ever considered a career change or would like to discover more about Smurfit Kappa's industry-leading positive work-life balance, visit our careers section.

From the whole team at Smurfit Kappa, congratulations to everybody who participated, supported, and volunteered throughout this year's IMART tournament, we look forward to seeing you all again next year in 2023.