1 / 3: eCommerce packaging for businesses of all shapes and sizes
About Smurfit Kappa Beacon
At Smurfit Kappa Beacon, we have been manufacturing packaging solutions for over 30 years. Our packaging capabilities include small and large regular cases, printed and taped eCommerce packs, quick assembly and SRP (shelf-ready packaging) and much more.
Located in the south of the UK, our flexible fleet of vehicles enables us to accommodate almost any customer delivery requirement, whether locally or across the country.
As well as our wide range of packaging solutions and print capabilities, we pride ourselves on the speed of response, providing quotations within 24 hours of receiving an enquiry and design work within 48 hours. We have a significant number of long-standing customer partnerships that we continue to supply due to our commitment to innovation and our ability to offer cost-effective, fit-for-purpose, sustainable packaging solutions to the highest quality standards. We also have a strong sense of customer service with a willingness to work in collaboration with our clients to make sure we're delivering the very best packaging solutions possible.
We offer:
Full sales support from concept creation to delivery with an in-house design team
Flexographic print
Regular casework, die-cutting, pads, fittings, divisions and more
eCommerce packs with multipoint gluing and adhesive tape options
Small and large volumes
Stock and serve (upon request and review)
Paper-based packaging solutions that help you avoid The Plastic Packaging Tax
Our address is:
Smurfit Kappa Beacon, Blackwater Park, Holder Road, Aldershot, Hampshire, GU12 4PQ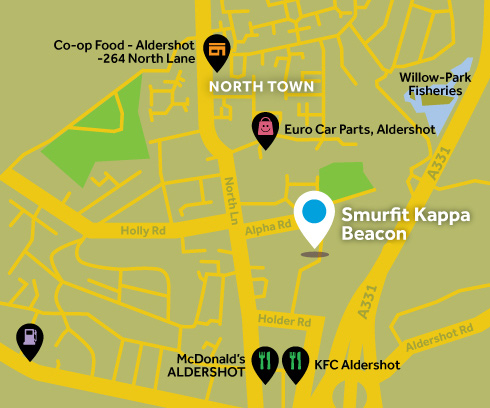 Component "Site Location Map" has no content
Contact our team using the form below and we'll get back to you as soon as we can, or call us on 01252353333.