Industrial packaging
Honeycomb Packaging (Hexacomb)
Honeycomb (Hexacomb) packaging is a paper-based cardboard sheet material that offers a unique combination of superior strength whilst being light-weight.
We manufacture in the design and production of Honeycomb cardboard packaging sheets and display panels based on paper in the UK. It provides the highest levels of protection due its ability to cushion and absorb shock allowing products to transport safely, minimizing product damage and returns. In addition we produce graphic sign and displays panels under the name Falconboard™.

Your product protected against supply chain damages
Provides cushioning (prevents product breakage, dents, scratches etc.)
Outstanding shock absorbance
Fills gaps or holes = void filling
Reduces/eliminates product shift during transport (stabilize loads)
Provides stacking strength up to 800 kPa at best ratio compression/weight/cost
Provides rigid support, structure and stability
Our planet protected by using lightweight papers being 100% recyclable
Quantified sustainability benefits in CO2 footprint, transport movements and costs
FSC certified papers by default
Proven paper waste collection up to 85%
On demand customized solutions
Innovative thru design
Holistic paper based packaging solutions specifically designed for you (buffers, box, pallet, top)
Fast and high flexibility in changing design by 3D design and short lead times
Low start up and tooling costs
A knowledgeable company
Reducing your outgoing freight costs because of double stacking, reduced transport damages, less re-shipments
Reducing your labour and/or handling cost
Guaranteed performance on certificate delivery (glass spacers)
Paper, Honeycomb and corrugated integrated knowledge enabling mono-material lightweight solutions
Testing; Absorption, drop, compression, (digital) printing, cutting
Pro-active customer centric team
We understand our market, key segments and customers like no other
We inspire customers with insights, pains and solutions
Fast response, accurate and right first time to your requirement
What are the features of Honeycomb Packaging (Hexacomb)?
Lightweight and strong, providing superior compression strength

Good shock resistance and cushioning performance

Easily die cut, assembled, or otherwise fabricated to the shape of the object

Highly durable and reusable

Available in a wide range of formats like simple panels, die cut boards, edge and corner protectors, cradles and wedges

100% recyclable and made from a renewable resource
What are the benefits of Honeycomb Packaging (Hexacomb)?
Custom designs optimize the volume of Honeycomb packaging material required for protection. This reduces waste and handling of excess packaging.

Reduces product damage and freight claims through improved protection of the goods.

Lower packaging weight in transit reduces freight costs and improves carbon footprint.

Faster to packing and loading due to ease of handling

Ideal replacement for expanded polystyrene (EPS) that does not crumble or shed and is fully recyclable.

Unlike wood products, Honeycomb cardboard sheet packaging does not require export certification, making it the hassle-free, worry-free shipping solution when exporting
A guaranteed supply from a trusted source
Our certified Chain of Custody is your guarantee of a verifiably sustainable Honeycomb cardboard packaging supply chain.
At Smurfit Kappa UK we understand the importance of sustainability in everything we do, and see it as our responsibility to ensure the products we supply to our customers meet the highest chain of custody standards.
100% of paper produced and sourced for our packaging solutions is FSC®, PEFC™ or SFI™ Chain of Custody certified
90% of packaging supplied to customers is FSC®, PEFC™ or SFI™ Chain of Custody certified
Look out for our stamp of proof on your invoice to give you total peace of mind around the origin of your paper-based packaging.
Learn more about Chain of Custody
How can packaging help you maximise supply chain efficiency?
SupplySmart is a combination of unique tools, data and expertise that enables you to optimise the role of packaging across your supply chain – with the reassurance you're making fully risk assessed decisions that will deliver measureable cost savings.
SupplySmart enables you to uncover, target and deliver improvements to packaging to increase efficiency and effectiveness across your supply chain – all the time minimising the risks to your business.
Learn more about SupplySmart
What is Honeycomb (Hexacomb) packaging?
At Smurfit Kappa we call our version of Honeycomb packaging Hexacomb but the product is exactly the same.
Honeycomb cardboard sheet packaging is a lightweight and eco-friendly solution for protecting your products. Crafted from recyclable paper-based material with a unique honeycomb structure, it offers superior strength and cushioning, acting as a shock absorber to prevent breakage and scratches during transportation.

This innovative packaging fills gaps and voids, allowing for secure and stable packaging, which prevents product shift during transit, meaning your items arrive in pristine condition. With stacking strength reaching up to an impressive 800 kPa and its lightweight nature, Honeycomb cardboard sheet offers reduced weight and lower shipping costs without compromising stability.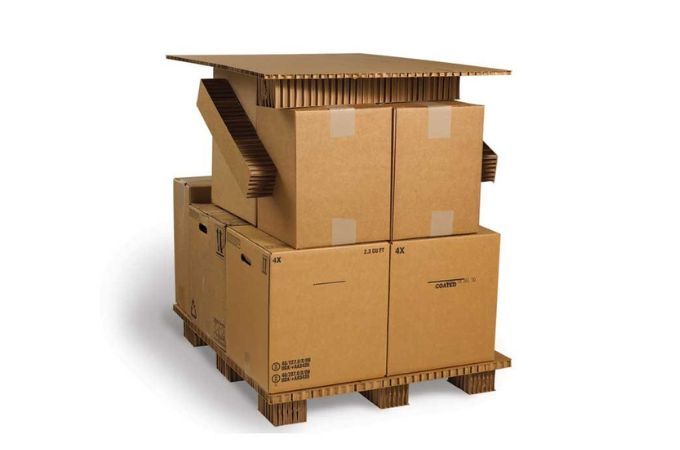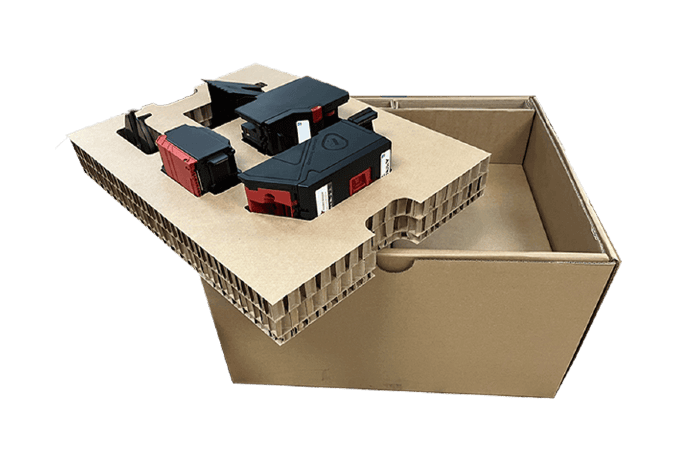 Honeycomb packaging vs bubble wrap
Honeycomb packaging and bubble wrap have their own set of advantages and disadvantages. Honeycomb packaging offers benefits such as being lightweight, which saves on shipping costs, and its ability to tightly wrap around items, providing strong and durable protection.

It's also eco-friendly, made from renewable kraft paper and 100% recyclable, which considers the environment and creates a positive brand image.

As with Honeycomb cardboard sheet, bubble wrap is also lightweight and durable. However, it does take up more storage space and can be less visually appealing. One of the main disadvantages to bubble wrap is that it is non-recyclable making it a less sustainable packaging option.

When choosing between the two, it's important to consider the fragility of the packaged items, available space, budget, and environmental impact. Overall, Honeycomb cardboard packaging is recommended for its eco-friendly nature, affordability, and user-friendliness.
How strong is Honeycomb paper packaging?
Honeycomb cardboard sheet defies expectations with its lightweight design, delivering unmatched strength and rigidity compared to other options. Its interlocking cells create a protective fortress, cushioning and absorbing shocks to ensure the secure transit of goods. Embracing paper Honeycomb packaging reduces shipment weight, cuts delivery costs, and offers durable protection.

Notably, compared to traditional cardboard and corrugated cardboard, paper Honeycomb requires less material, yet its strength remains uncompromised, boasting an impressive compressive strength of 7 kg/cm2.