Why Bag-in-Box® for Cider?
Are you a cider manufacturer seeking to improve on your sales volume? Explore direct-to-consumer avenues? Perhaps you'd like to target events & pubs to use your cider? Or maybe you just want to use the most sustainable packaging available on the market which just so happens to also keep your product tasting its best – Bag-in-Box® can deliver all of this.
What is Bag-in-Box®?
Bag-in-Box® is a sustainable packaging solution which was developed many years ago for the safe transport and storage of liquids. Over the years it has become more and more familiar in the retail space, and with the more recent pressures on sustainability (plastics tax coming in 2022) and consumer purchasing behaviour changing this type of packaging is seeing large growth in the drinks industry.
Available in a number of sizes the Bag-in-Box® is suitable to drinks manufacturers looking to; (1) sell to supermarkets for consumer purchasing (2) sell direct to consumers via eCommerce platforms and (3) sell to pubs or other establishments interested in higher volumes for events or to use behind the bar.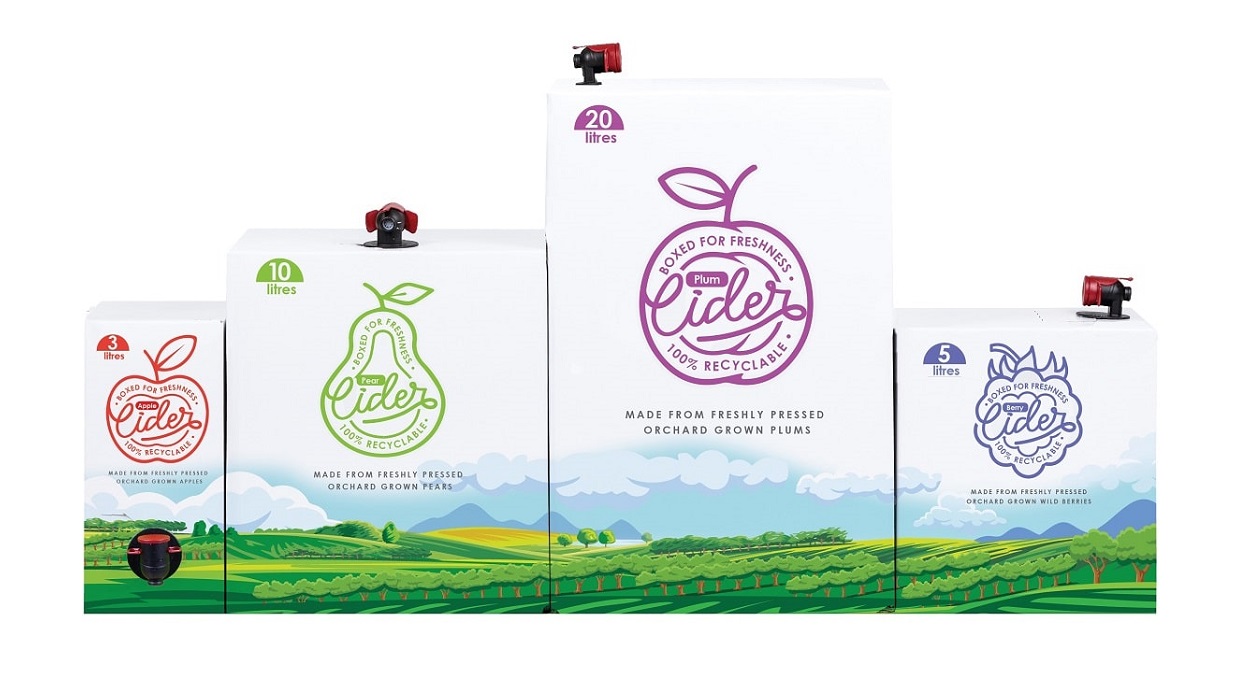 What are the advantages of Bag-in-Box® over other packaging solutions?
1) Sustainability
As mentioned, the Bag-in-Box® bag and box are both 100% recyclable. Therefore, companies currently using plastic packaging solutions but wishing to avoid plastic tax implications from 2022, the Bag-in-Box® is a great way they can achieve this.

In addition to the recyclability facts of the Bag-in-Box®, there is also the perceived sustainability by consumers. When faced with a choice of plastic or cardboard, consumers will sway towards cardboard having the knowledge that this material is better for the environment and easier to recycle.

You can find out more reasons as to how Bag-in-Box® is a sustainable packaging solution via our research summary here.
2) Product freshness
Once opened, the last drop of liquid contained within the Bag-in-Box® will remain just as fresh and enjoyable as the first. Even if a long duration of time passes. This is down to the air tight design reducing oxidization.
3) Reduction of transit damage
Glass bottles can easily be damaged in transit and product spoiled. The Bag-in-Box® has both its external cardboard protective layer, as well as the bag containing the liquid. In order to truly break a Bag-in-box® product, it really would have to endure some severely vigorous handling.
4) Quantity of liquid
Our biggest Bag-in-Box® size is 20 litres, that's the equivalent to over 35 pints! All contained within one box, the 20, 10, 5 & 3 litre boxes enable drinks manufacturers the opportunity to sell higher volumes of product which are manageable by the customer. Long gone are the days of struggling to carry boxes of glass bottled cider, and the fear one or two may escape in transit.
5) Better value for money – for you and your customer
Not only does the Bag-in-Box® offer drinks manufactures the opportunity to increase their sales via product availability (online and offline, direct or in-direct), improve brand & promotion exposure on the packaging itself with a range of print options, but as these boxes are standard sizes there are no origination costs. And with no minimum order quantity (although we would say best value would be around the 1,000 mark) there is little reason not to choose Bag-in-Box® for your cider.

For your customer, they are able to access your products easier (if you are using Bag-in-Box® to sell direct-to-consumer) and enable them to purchase larger quantities of your cider which will not spoil over a reasonable period of time even if opened; increasing longevity. And all packaged into one box, reducing associated packaging costs.
So why should you use BIB for your cider?
If we haven't covered it already the best summary we can give you as to why you should use Bag-in-Box® for your cider is 'to optimise your product exposure in a competitive marketplace, increase your sales volumes through larger quantity sales, reduce storage and transport costs, communicate with customers through fully branded packaging and deliver a great customer experience influencing repeat purchasing by offering quality cider that (as our Business Development Manager Andrew Richards would say) "the first sip tastes just as good as the last".
If you would like to know more, contact Andrew direct via our contact form below or call him direct on 07562 208 254.
Smurfit Kappa Barnstaple – who are we?
"At Smurfit Kappa Barnstaple we are committed in being the partner of choice in collaborating with our customers in innovation, supply chain knowledge and insights; supporting you in developing your business by adding value to your product with the use of sustainable packaging solutions. We have been delivering Bag-in-box® solutions for almost two decades and look forward to helping you with your Bag-in-Box® requirement." Simone Mace, General Manager of Smurfit Kappa Barnstaple