2022-01-05T00:00:00
Smurfit Kappa Invests in Automated Packaging Machinery Offering
Smurfit Kappa UK is all about delivering the best possible packaging solutions to our customers. Whether that is through designing the perfect corrugated cardboard box, or creating the perfect packaging machine. At Smurfit Kappa Machine Systems, we have an experienced team of engineers who are passionate about creating bespoke, automated packaging machinery for our customers.

From single standalone units to fully integrated packaging lines, our team can deliver the perfect solution for your products. We will come up with initial concepts based on your unique requirements and our in-house design engineers will create a machine to match your production line. All the software for our machines is created bespoke for you and built to work exactly as you desire. The end product is a completely individual packaging machine which has been built just for your business.

Automated packaging machines from Smurfit Kappa can completely automate packaging lines and speed up the entire process. Our expert engineers are on hand to keep down time to a minimum and ensure your automated packaging equipment is running smoothly.

But the Smurfit Kappa Machine System's team didn't stop there. As well as designing, building and installing machinery, we also provide full service and maintenance. Our engineering team has recently received some new investments and our service offering is "the best it has ever been" says Smurfit Kappa's Machine Systems General Manager, Emma Holly.


New Investments and Vehicles
At Smurfit Kappa Machine Systems, customer satisfaction is everything. We aim to keep every one of our clients happy, not only during production of their machinery, but long after it has been installed. Our team of service engineers are on hand to help with any maintenance or service issues, so that machinery can continue operating smoothly. We know that a fault or problem with a packaging machine can be hugely detrimental to your production line, which is why we have invested in our operations to offer a better service.

All of our engineers now drive and deliver services from Smurfit Kappa's livery vans, providing an increased professional image on customers' sites. As well as looking the part, our engineers are more prepared than ever to handle machine faults, as each van is fully equipped with all the tools and parts they may need on site. Previously, our engineers had been using cars for service callouts, which were limited to the amount of equipment that could fit into their boot space. This investment into new vehicles is having a big impact on our service levels but we aren't stopping there! Our next step is to switch our engineer vehicles to electric vans, to help to also reduce our impact on the environment.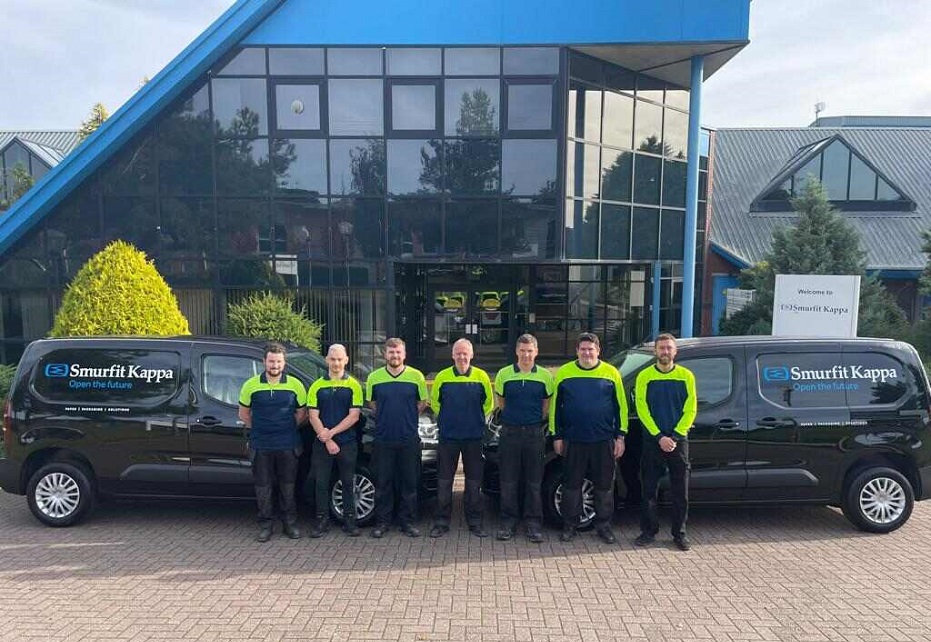 A Multi-Skilled Service Team
It isn't just our vehicles and equipment which we have improved, we have also expanded our service offering/level to cover the entire UK and each engineer will cover a specific geographical area. Previously, we have had separate engineers for bespoke and fleet packaging machines, but going forward, all of our team members will be trained and experienced to cover both built and fleet machine clients. This means our engineers will be better equipped to deal with almost any fault or maintenance issue and bring a diverse range of experience to each callout.

By switching up our team and having each engineer cover both built and fleet machine customers, we are reducing our response times and improving productivity. Our multi-skilled and multi-disciplined engineers can serve you better than ever before. When you choose Smurfit Kappa Machine Systems for your automated packaging solutions, you know you are in good hands. Our in-house team will handle everything from initial auto-mated packaging machine concepts through to delivery and installation, and after this, our new and improved service team will be just one call away. At Smurfit Kappa UK, we are always looking for ways to improve our service and deliver a better solution to each and every customer.


Automated Packaging Process
Our aim at Smurfit Kappa Machine Systems is to help your business home in on its packaging solutions and provide you with everything you need to perfectly package your products as quickly as possible. Our team of experts can design, build, and install a completely automated packaging process which will speed up your entire packaging line. By automating the packaging process, you will enjoy improved efficiencies and perfectly packaged products every single time.

The new investments we have made into our engineering team means that we can service your automated machines better than ever before. With our new vehicles and improved team, we can reduce your operational downtime and ensure your production line is running perfectly.


Not Just Machinery
At Smurfit Kappa we are able to offer the ultimate package - the supply of machinery and corrugated board all from the same supplier, so clients get the streamlining benefits that comes with it. It's also what makes us popular with businesses of all shapes and sizes, from small set ups to large organisations.
To find out more about our automated packaging machinery click here or to get in touch with Smurfit Kappa Machine Systems directly call 01454327777.