2021-05-10T00:00:00
Introducing the Eco-Tube
With increased pressures on companies to use recyclable packaging, Smurfit Kappa Composites have devised a solution under their Better Planet Packaging initiative – the Smurfit Kappa Eco-Tube.

This tube evolution enables the traditional composite tube to now be 100% recyclable through readily available consumer recycling schemes.

Not only does it retain the recognisable look and feel of the traditional tube but now adds an extra level of sustainability, without having an impact on strength, and still able to perform as a premium packaging solution creating shelf-disruption.

"We love our tubes at Smurfit Kappa Composites; the eye-catching designs, shelf presence, the premium & quality feel and robust protection – what's not to love?" said Peter Thorpe, Sales Manager at Smurfit Kappa Composites

"But with all these fantastic attributes we recognised the need to make our tubes more easily recyclable for the consumer. We saw the world changing, consumers starting to change buying behaviours to favour sustainable packaging, so we set ourselves a stretching target under our Better Planet Packaging initiative to make a 100% recyclable tube without compromising all the original great features. And after much hard work the Smurfit Kappa Eco-Tube was created!" continued Peter.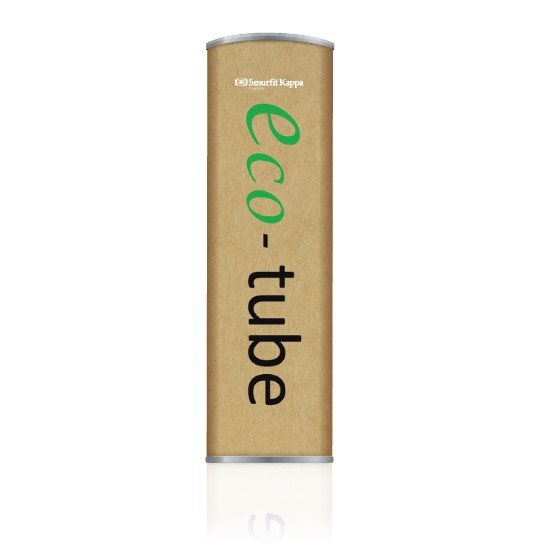 Key Facts About the Smurfit Kappa Eco-Tube:
100% recyclable without impacting visual appeal
Easy for the consumer to understand how to recycle
Retains the same strength & protection than a standard tube
Scalable options – making it suitable for a wide range of products
Consumer brand recognition unaffected as full print and additional finishes still available
Research shows that brand loyalty is becoming less dependable and consumers are actively seeking brands that focus more on sustainability & the environment. The Smurfit Kappa Eco-Tube helps brands improve their image by offering a fully recyclable packaging product.
Why Paper Tube Packaging?
Composite paper tubes have long been the packaging-of-choice in the traditional markets for premium brands in industries such as alcoholic spirits, beauty, cosmetics, high-end retail and construction to name but a few. Made using only FSC sourced papers and recycled board, they are a cost-effective environmentally friendly solution and a great alternative to plastics.
The robustness of the paper tube packaging also offers added perceived value to products in-store. Combined with high-quality print and an array of luxury print finishes, this packaging solution causes on-shelf disruption encouraging first and repeat purchases.

Businesses are enjoying being able to differentiate their products from their competitors by using a paper tube packaging solution. They are benefiting from the increased sales due to high shelf impact and, now, with the Smurfit Kappa Eco-Tube they are able to fully serve the eco-conscious consumers seeking fully recyclable packaging giving them that competitive advantage.

For more information on the Smurfit Kappa Eco-Tube visit our product page.