Packaging - eCommerce
T Shirt Packaging
Our T shirt packaging is a highly efficient eCommerce packaging solution with the power to enhance your brand identity.
With a few simple folds, your t-shirt can be quickly packed then swiftly sealed with a double adhesive tape. By using this innovative T Shirt packaging design, you can guarantee your product arrives in optimal condition with minimum creases. All T Shirt packaging solutions are supplied flat making them easy to store.
Your T Shirt packaging will be the first tangible interaction of your customer with your brand, therefore the first opportunity to make an impression. Using different printing methods, packs can be printed inside and outside, including brand identity and customized messages. The packaging can also be kept by the customer and be reused as a t-shirt folder at home.
Our T Shirt packaging is FSC® certified, 100% recyclable and made from a renewable resource.
We offer an integrated tailored service from initial design to testing
Smurfit Kappa offers an integrated tailored service from initial design to ISTA 6 Testing to assist vendors in getting their products to market.
Our team of 700 designers will work with you to develop a pack to meet your products need and using our unique innovation tools, we will calculate the required pack strength to meet your supply chain needs.
At our ISTA certified lab we then rigorously test paper, board and pack performance throughout the supply chain. Our expert's stress-test packaging in all different transport simulations and climates, and these leading logistics insights ensure your products are well protected all the way to their final destination.
Smurfit Kappa's accredited ISTA laboratory offers Frustration Free Packaging (FFP), Ships-in-Own-Container (SIOC) or Prep-Free Packaging (PFP) testing to ensure the reduction of damages.
Amazon Frustration Free Packaging (FFP)
Smurfit Kappa EU is an official participant in the Amazon Packaging Support and Supplier Network (APASS)
The APASS program has been designed by Amazon to help support vendors, sellers and manufacturers in obtaining certification of their products as Frustration Free Packaging (FFP), Ships-in-Own-Container (SIOC) or Prep-Free Packaging (PFP).
The packaging initiative implemented by Amazon enhances the consumer experience by using recyclable boxes that are easy to open and free of excess materials such as hard plastic clamshell cases, plastic bindings, and wire ties. APASS also improves the environmental footprint of Amazon suppliers by reducing packaging waste and product damages due to the optimised packaging solutions.
Smurfit Kappa provides APASS services directly to vendors, sellers or manufacturers in compliance with Amazon's certification requirements and guidelines.
A guaranteed supply from a trusted source
Our certified Chain of Custody is your guarantee of a verifiably sustainable packaging supply chain.
At Smurfit Kappa we understand the importance of sustainability in everything we do, and see it as our responsibility to ensure the products we supply to our customers meet the highest chain of custody standards.
100% of paper produced and sourced for our packaging solutions is FSC®, PEFC™ or SFI™ Chain of Custody certified
90% of packaging supplied to customers is FSC®, PEFC™ or SFI™ Chain of Custody certified
Look out for our stamp of proof on your invoice to give you total peace of mind around the origin of your paper-based packaging.
Learn more about Chain of Custody
How can packaging help you drive eCommerce growth?
Packaging can deliver a whole lot more than products. Through eSmart, Smurfit Kappa's unique eCommerce packaging service, our experts can scrutinise and optimise the performance of your packaging across 12 different business areas.
From packing line to supply chain to customer experience, we act only on the opportunities relevant to your business – so you'll have the insights you need to make better plans, faster decisions and be more prepared to grab every opportunity as you expand.

Learn more about eSmart

See how quick and easy our T Shirt Packaging is to pack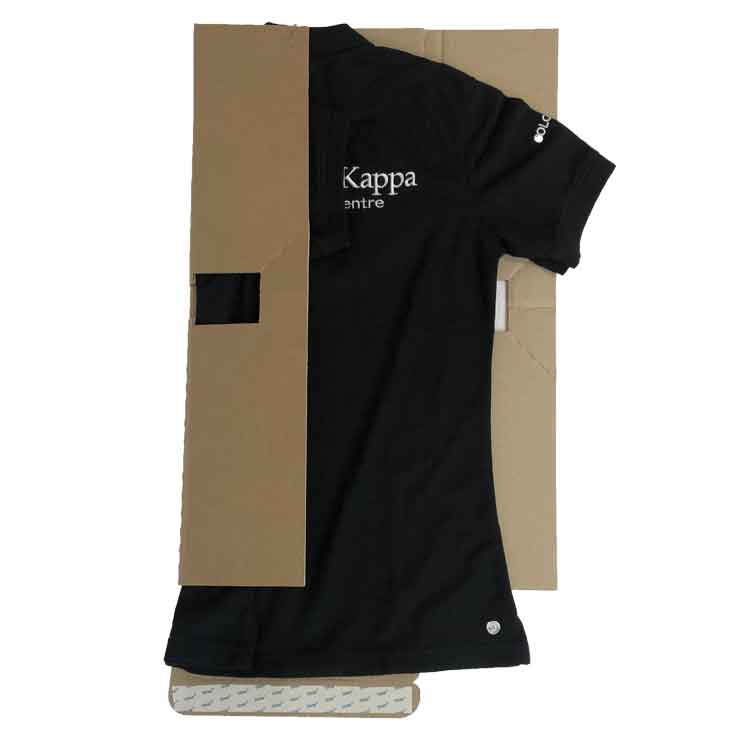 Frequently Asked Questions
Please note our minimum order quantity is 1000