Advantages of Bag-in-Box® for Cider Packaging
There are a plethora of advantages to using Bag-in-Box® for cider packaging. It's a sustainable choice - not only is the bag and box 100% recyclable, but also lighter and more space-efficient in transit. This reduces the number of vehicles needed to transport it, and the amount of petrol they use up, as their cargo is lightened.
In fact, the cider Bag-in-Box® is eight times more sustainable than its glass bottle counterparts, and reduces transport space by up to 92% - that's quite a cost saving. You can read more about the overall sustainability of Bag-in-Box® solutions here.

As well as generally being more eco-friendly, the cider Bag-in-Box® has the advantage of appearing more sustainable to consumers, who are much more likely to opt for a cardboard option over a plastic one when given the choice.

The Bag-in-Box® also keeps your cider fresh, reducing oxidation and meaning your customers can pour a tipple whenever they fancy one.

Of course, it's also less likely to break than traditional glass bottles, with the protective bag layer and the cardboard layer much less susceptible to bumps in transit.
How to decide which size you need
So, you're convinced that cider Bag-in-Box® packaging will be a great choice for your business - but how to decide which size of Bag-in-Box® you need?
At Smurfit Kappa Barnstaple, we offer four size options for Bag-in-Box®, all of which have different advantages when it comes to the marketplace.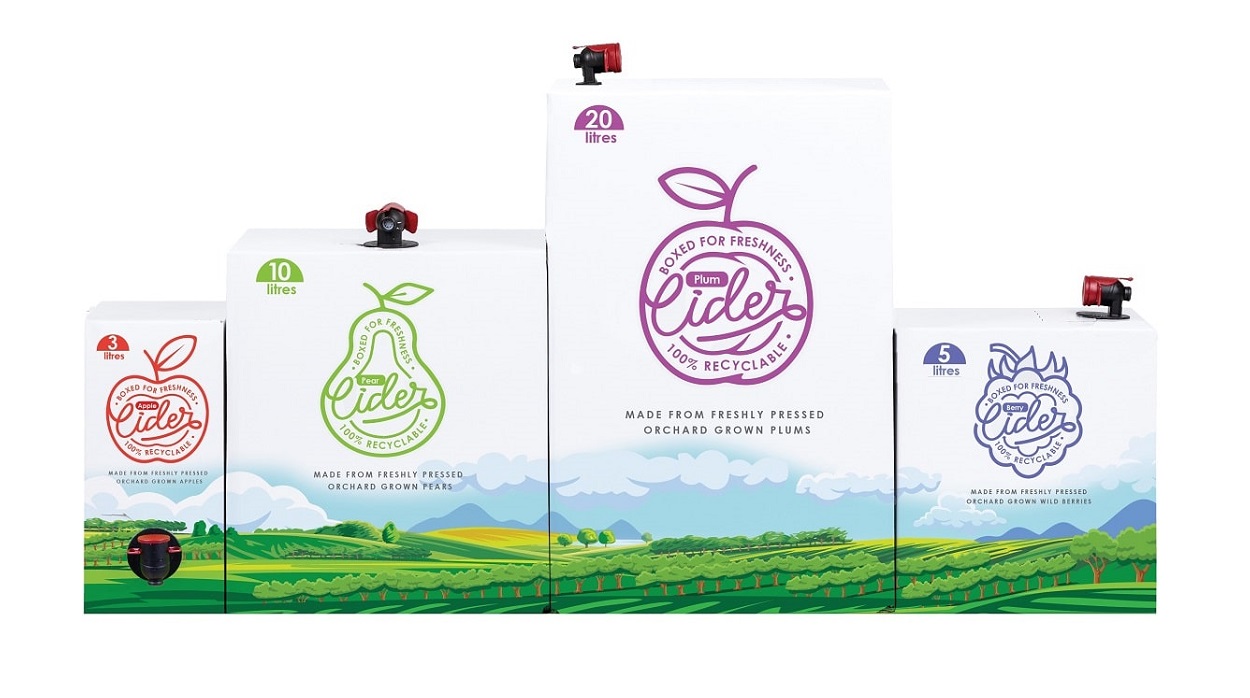 3 Litre Bag-in-Box®
The smallest Bag-in-Box® solution for cider, the 3-litre option is a great choice when it comes to selling direct to consumers.
Its compact design means that customers can easily grab it from a supermarket shelf - without the risk of dropping glass bottles, or the strain of carrying them! The cardboard and film combination is much lighter than their glass counterparts, despite holding the same volume of liquid.

This is not only fantastic for the environment, as mentioned before, but also allows a wider range of consumers to safely carry the cider.

If you're looking for a direct-to-consumer eCommerce solution, the 3 litre Bag-in-Box® works here too. It is much easier and more economical to ship than traditional glass bottles and allows customers to try your cider in smaller quantities.



5 Litre Bag-in-Box®
Like the 3 litre Bag-in-Box®, the 5-litre solution is a popular choice when it comes to selling direct to consumers, either online or in-store.

In stores, the larger size and rectangular shape stand out amongst a crowd of round glass bottles. Because you can customise the boxes' designs, they provide a perfect way to distinguish your brand from the competition.

Even compared with boxed cans, consumers can easily tell that they're getting more value by choosing the cider packaged in Bag-in-Box®. A standard can at 440ml means that even buying a 10-pack - which will be bulkier due to the necessity of containing the cans inside - still falls short of the 5-litre mark.

Because of the air-tight design, the cider inside stays fresh no matter when the box is opened. Whether your customers are occasional cider drinkers or hosting a get-together, they'll appreciate the ability to pour only as much as you need, without compromising the remainder.



10 Litre Bag-in-Box®
Getting a little bigger now, the 10 litre Bag-in-Box® enables businesses to sell to trade markets, as well as being a good option if you're selling directly to consumers solely online.

Its size means that customers benefit from better value for money when they buy direct from your business and can order their favourite cider in bulk. A 10 litre Bag-in-Box® is enough for a weekly half-pint for two for eight weeks straight!

The 10 litre Bag-in-Box® is likely to be a good choice if you sell directly to trade customers. Not only will these businesses also benefit from the bigger size being better value for money, but you will also be able to pass on savings on transport costs.

Competitive pricing because of these savings might just be what gets your foot in the door with new trade customers and sparks a 'fruitful' relationship for years to come.



20 Litre Bag-in-Box®
Our largest cider Bag-in-Box® solution, the 20 litre Bag-in-Box® is a perfect option for selling to trade markets.

Trade customers tend to prefer larger quantities, as it saves them time on box changes. Given that new rules may come into effect post-lockdown concerning how long customers can stand at a bar, every second counts. By offering a 20 litre Bag-in-Box® solution, you're allowing bars and pubs to streamline their service - that's over 35 pints poured without having to break to switch boxes.

Because of the Bag-in-Box® shape, it is as easy to store as it is to transport - so trade customers can buy in bulk without worrying about where it will all go. It also optimises freshness, so there's no worry that the cider will go flat or stale before it's drunk.


If you'd like to know more about cider Bag-in-Box® packaging, or discuss how it could benefit your business, get in touch via our contact form below or call 01271 345011.