Cardboard Box Packaging Dividers
Whether you are shipping multiple wine bottles, high-end spirits, or bottles of beer, cardboard packaging box dividers and inserts are essential for keeping products safe and secure in transit.
Also known as box inserts or separators or partitions, cardboard box dividers are an essential addition to many packaging solutions. They sit within box packaging and help products such as glass bottles to stay in place and prevent damage.
One of the biggest benefits of corrugated dividers and divisions is that they are a sustainable alternative to plastic partitions and void fill packaging. So, you can show consumers you care about your impact on the planet.
Damages can seriously affect a small business's bottom line. Cardboard box dividers and inserts separate products into individual partitions inside an outer box, allowing for stable transportation. This enables your business to ship fragile products, giving you peace of mind that your products are protected in transit.

In addition to offering improved safety for fragile products, packaging boxes with dividers can deliver a more
premium and luxury feel
. With bespoke packaging, using corrugated inserts is both an attractive and functional solution. Not only that, but divisions can ensure your packaging solutions are extremely versatile.
You can use the same outer boxes for various product ranges and use dividers to tailor them to each individual item like glass bottles, cans, 70cl wine etc. This can offer many cost savings for small businesses, while still allowing bespoke product packaging for your brand.
There are various types of dividers and divisions available, including corrugated card which can cushion delicate products in transit while offering a lightweight, sustainable solution.
Our cardboard box divider inserts comes in custom and standard dimensions. If you're looking for 3, 6, 12, 24 column inserts, we can provide you with your business requirements.

As specialists in creating bespoke cardboard box packaging solutions for small businesses, we can help you understand if dividers and divisions are the right option for your boxes.
Discover the convenience of ordering box dividers or inserts online with us. Experience hassle-free packaging solutions, superior quality, and reliable service that exceed your expectations. Simply submit your enquiry, and we'll take care of the rest.
What are the features of Box Dividers and Divisions?
Choice of corrugated card or solid board
Sustainable alternative to plastic void fill
Bespoke designs tailored to product lines
Sustainable and 100% recyclable
Product protection reduces product damages during transit
Custom cardboard box divider sizes and length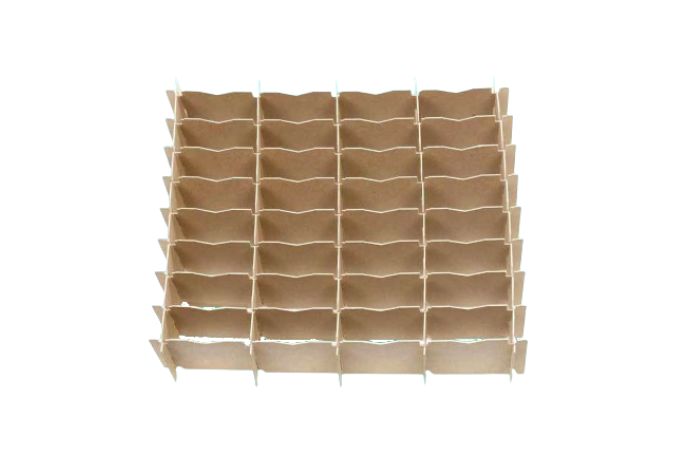 Cardboard box divider uses
Cardboard box dividers, also known as inserts, separators, or partitions, are an absolute must-have for ensuring the safety and security of your products during transit. Whether you're shipping wine bottles, high-end spirits, or building a microbrewery, these dividers play a crucial role in keeping your items intact.

As a small business, the impact of product damages can be significant on your bottom line. But with recyclable/sustainable cardboard dividers, you can breathe a sigh of relief knowing that your products are well-protected on their journey to your customers.

By using cardboard dividers, you can create individual partitions within your packaging, preventing fragile products from colliding and getting damaged.

The best part is that these dividers are an eco-friendly alternative to plastic partitions and void fill packaging, helping you to avoid plastics tax and play your part in a greener future; showing your customers you care.
Foam vs cardboard inserts
When it comes to packaging, choosing the right dividers is crucial for protecting your products during transit. While foam dividers may seem like a popular choice, they aren't always a sustainable choice and are rarely tailored to fit the outer container, meaning your products don't sit snuggly in their packaging.

Cardboard inserts on the other hand are environmentally friendly, as they can be easily recycled and are made from renewable resources. Another fantastic benefit is that cardboard dividers can be tailored to fit your specific product sizes, providing a snug and secure fit.

We understand that as a smaller brand, every detail matters, and that's why we're here to support you in finding the most suitable packaging solutions. Let us guide you through the process, ensuring your products arrive safely and sustainably.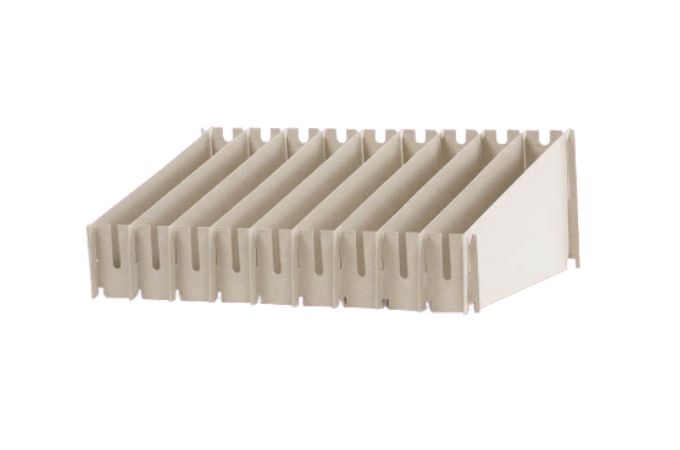 Have a cardboard box dividers project you'd like us to help with?

Whether you have a clear requirement or just the sparks of an idea. We're here to help.
If you're looking for a career with us, please visit our careers page here.