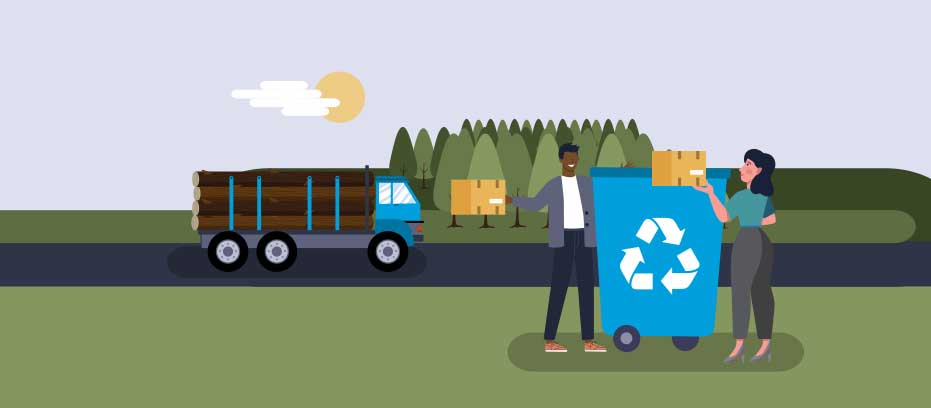 A greener, bluer planet
The circular economy is at the core of our business. We use renewable, recyclable, recycled and biodegradable materials to create sustainable packaging solutions. We play a part in ensuring that at their end of life, our products are recycled. Our four areas of focus are:
Forest

We balance the use of virgin and recycled fibres to maintain a positive and sustainable balance of renewable raw materials. We have committed to a complete Chain of Custody certified sourcing and manufacturing chain, from fibres to our packaging solutions.
Climate Change

We are stepping up our ambition with low-carbon and energy-efficient production systems, and increasing our use of renewable fuels. We are targeting at least Net Zero carbon emissions by 2050 and have accelerated our medium-term carbon reduction targets, which have been approved by the Science Based Targets initiative (SBTi). We also offer our customers optimised packaging solutions that help support their sustainability targets and reduce CO2 emissions in their value chain.
Water

We are committed to responsible water stewardship. We focus our efforts on continually improving the quality of water we discharge, decreasing our water intake and understanding the risks associated with water availability in the areas where we operate.
Waste

Our products are specifically designed to protect the goods they package. Our main raw material itself is circular by nature, and we strive to eliminate all waste and keep removing the remaining linear elements from our processes.
Delivering for the Sustainable Development Goals (SDGs)
Smurfit Kappa Impacts
Smurfit Kappa has a direct impact on clean water resources, affordable and renewable energy, and forest biodiversity and ecosystems. Through our efforts to reduce the climate impact of our operations as well as our products that help our customers reduce the climate impacts in their supply chain, we contribute to the global climate action. Supplying our customers with sustainable packaging solutions that protect their products from damage and inform consumers of their contents, we are part of the responsible consumption and production chains. We have set targets in all these areas.


Smurfit Kappa Supports
Smurfit Kappa support local communities through its paper recycling operations, and is part of the infrastructures for sustainable communities. By replacing plastic packaging, our products help prevent plastic litter from entering water bodies and harming water ecosystems, and our Better Planet Packaging initiative helps raise awareness in this area.

Learn more about United Nations Sustainable Development Goals (SDGs)