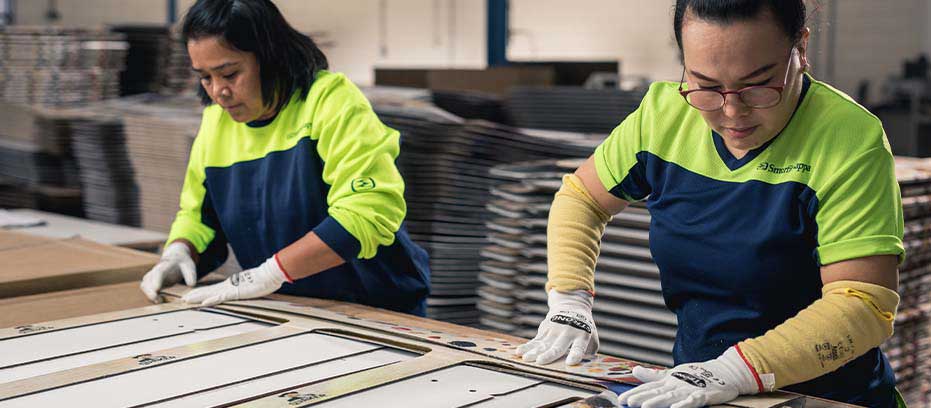 Key achievements in 2020
We report on our progress annually and our sustainability data is verified in an independent limited assurance process using GRI standards. These are some key achievements made in 2020.

Planet
Announced targeting Net Zero carbon emissions by 2050 and reached 37.3% CO2 emissions intensity reduction for our paper and board mills since 2005.
Achieved 38.2% Chemical Oxygen Demand intensity reduction since 2005.
Reduced the amount of waste sent to landfill by 23.7% compared to 2013.
Completed a €134 million investment in a new recovery boiler in Nettingsdorf, Austria, which will decrease our CO2 emissions by 40,000 tonnes.
A new waste sludge press decreased the waste sent to landfill for Cali, Colombia by 47%.
People
Conducted a Group wide COVID-19 Pulse Survey to ensure our people were safe, supported and connected.
Set new targets for our people commitments. Amongst others, we have ambitions to increase the number of women in management position to at least 25% by 2024, while we also want to increase female participation in our overall workforce to over 30%.
Achieved a TRIR reduction of 29% compared to 2019.
Formed key strategic alliances with The Valuable 500 and Employers Network for Equality and Inclusion, to deliver on our commitment to diversity and inclusion.
Invested €7.7 million in social projects and made an additional €3 million donation in various COVID related projects.
Impactful Business
Broadened our Better Planet Packaging initiative.
Hosted over 100 webinars on sustainable packaging concepts.
Grew Better Planet Packaging with introduction of eFashion, eBottle and Clips&Grips.
Partnered with leading value chain partners.
Included in Solactive ISS ESG Beyond Plastic Waste Index.
Support the Goals award for first FTSE100 company with five stars for making the UN 2030 Sustainable Development Goals a reality.
Rated at A- level for our CDP climate change response.
Announced our support to the Task Force on Climate-related Financial Disclosure project (TCFD) in May.
Started reporting in line with the relevant SASB criteria.
Interactive Charting
Use our Interactive Analyst tool to view, chart and download the Company's historical sustainability data and metrics.