A message from our Group CEO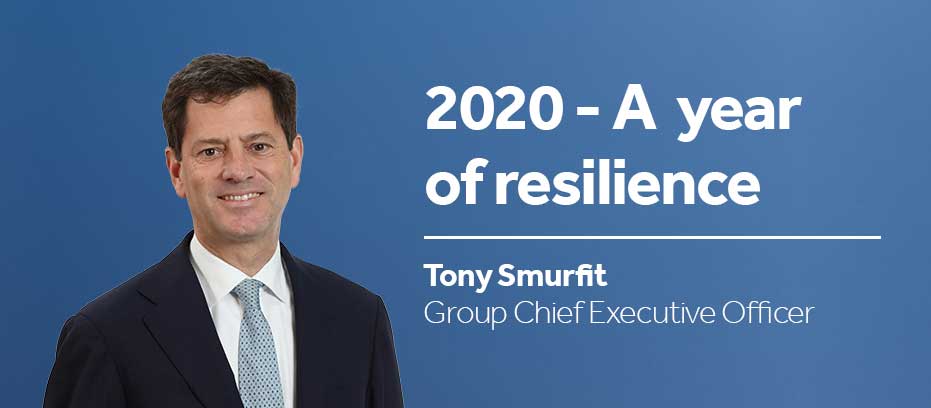 "At Smurfit Kappa, we recognise our role in society and are committed to protecting the planet, its people, and our stakeholders."
2020 - a year of resilience
In 2020 and continuing in 2021 the COVID-19 pandemic placed enormous challenges on society. In Smurfit Kappa we brought our values of Safety, Loyalty, Integrity and Respect to life during this challenging time. Our primary focus was, and is, to protect our employees and continue to meet our customers' needs. We remained operational as a result of our employees' dedication and commitment and I have the utmost respect for our resilient workforce.
We have also seen that the COVID-19 pandemic has resulted in changing consumer patterns and purchasing trends. As a leader in sustainability and innovation we are well positioned to deliver insights and packaging solutions for our customers as these future trends continue to emerge.
Generating value for all stakeholders
The pandemic has further strengthened our view that we need to employ an end-to-end approach to sustainability. This means not only understanding every social, environmental and economic aspect of our business but also the interdependencies between them. Our business impacts people and the environment in many different ways and by thinking of the issues in totality, rather than in isolation, we can achieve a greater positive impact.
During the COVID-19 pandemic, the importance of sustainability became even clearer, with citizens demanding change. Climate change, the most challenging issue of our time, has become, in the eyes of many, a climate crisis. Diversity, inclusion and equality are urgent issues for global society. Deforestation and the need to create a circular economy may have received somewhat less attention during 2020, but remain critical issues for the planet and relate directly to our business activity.
Since we started our corporate sustainability journey almost 15 years ago, we have been focusing our efforts on solving these issues while positively impacting our customers, our other stakeholders and playing our part in having a positive impact on the planet.
Generating value for all our stakeholders is what focuses us in becoming a truly sustainable and circular Company. Showing our ambitions and declaring specific and measurable goals will underpin our leadership in sustainability.
The year's sustainability highlights
During 2020, we broadened the Group's commitment to sustainability by introducing ambitious targets in new areas and updating our existing set of sustainability targets bundled under a common theme, Better Planet 2050. We are targeting at least Net Zero fossil emissions by 2050 while increasing our existing 2030 CO2 intensity reduction target. We have strengthened our commitment to water stewardship. On deforestation, we have a new alliance with the World Wildlife Fund Colombia and we will further increase Chain of Custody certified product deliveries to our customers.
We have also set additional targets in the areas of gender balance, employee and community engagement, inclusion and diversity, and ethics and values. This demonstrates our commitment to engage our employees, provide a safe place to work in a diverse and inclusive organisation that is at one with the communities where we are located.
Important, sustainability related investments were completed in Austria and in Colombia that will significantly reduce our CO2 emissions and our waste to landfill volumes.
In addition, we started reporting on the recommendations of the TCFD and the relevant SASB criteria and incorporated our key sustainability performance indicators in the financing arrangements with our banking consortium.
The year's performance
We continue to make progress on our environmental and social targets. In environmental, fossil CO2 and waste to landfill intensity decreased significantly, Chain of Custody certified deliveries to customers increased and water quality discharge improved. In social, our safety performance improved by 29% and the percentage of women holding management positions continued to increase. These continual improvements are the result of a combination of significant investments by the Company and relentless dedication by our people.
2021 and beyond
The world we live in has – even aside from fighting the COVID-19 virus – immense challenges ahead. If we put sustainability at the heart of our thinking and way of operating, we can make a real contribution to tackling these issues. By collaborating with our value chain partners and like-minded organisations, we can create greater social, economic and environmental value.
All of our ambitions have their challenges, but that is the very point of them: to challenge ourselves to do what is right for society. I hope you enjoy reading our 2020 Sustainable Development Reports and I look forward to your feedback at sustainability@smurfitkappa.com.
Tony Smurfit
Group Chief Executive Officer
30 April 2021