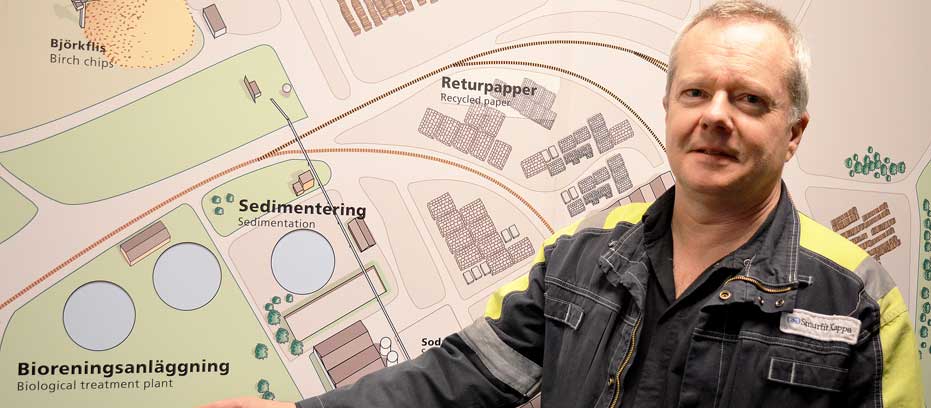 Smurfit Kappa Piteå halves COD-emissions
Smurfit Kappa Piteå, in the northern part of Sweden, is situated in an area known for its rich water surroundings. The city is located at the mouth of the Pite River at the shore of the Bay of Bothnia. To protect the popular tourist archipelago in which Smurfit Kappa operates, much attention is given to the Waste Water Treatment Plant (WWTP) as Ingemar Lundstrom, Environmental Manager, points out.

'We have been improving our WWTP since 2013', explains Ingemar. 'Back then our mill exceeded the limit values for COD-emissions. The reason was uncontrolled abundant growth of filamentous bacteria resulting in an overload of the secondary clarifier. To solve the issue, we conducted a detailed investigation with the assistance of internal and external experts. We also visited mills with similar WWTP-facilities, and received valuable input that we could use for our own operations.'

Action plan
The team in Piteå developed an action plan with four main points. The first was to improve dosage and control of nitrogen and phosphorous by using an online TOC-device. Secondly, they intended to improve oxygen-control in the different aeration basins by installing automatic control valves and online oxygen readouts. Following that, the team aimed to distribute return sludge from the secondary clarifier to one better positioned in the WWTP aeration basin. Finally, they sought ways to reduce waste water volumes to the WWTP.

Support from authorities
'It was essential for the project to get approval from the Environmental Court', says Ingemar. 'We received a four-year temporary permit with less strict conditions, allowing us to implement the action plan. After four years, we have to return to the conditions stipulated in the old permit. Once we acquired the permit we proceeded as planned. Some optimisation trials are still to be completed.'

COD-emissions halved
The WWTP process in Piteå is back under control. Achieving good sludge properties by controlling the share of fiamentous bacteria is a key factor. Emissions of COD, suspended solids and nitrogen are now well below the maximum values in the permit and even below the ranges in the new BAT-AEL, the Best Available Techniques and Associated Emission Levels. Phosphorus is also well below the permitted values and within the BAT-AEL range. Final optimisation is still in progress but, COD-emissions during 2013-2014 were 3,400 tonnes/year, which has decreased to 1,500 tonnes during 2016.