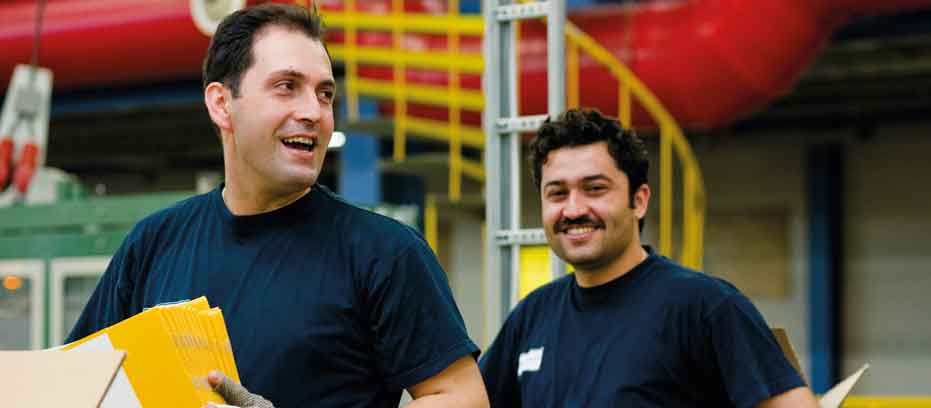 We value the commitment our people show every day to help Smurfit Kappa play a leading role in the paper-based packaging industry
The way we interact with people, both directly and indirectly, has important implications for our business. We aim to build excellent relationships with employees and customers, and to earn the respect of people and communities where we are active.
One of the key challenges for Smurfit Kappa is attracting the right talent to ensure succession planning and leadership continuity. To secure the best candidates we need to be innovative, and attracting female applicants to our sector is a particular challenge, Our response includes tailored programmes to promote female recruitment.
Health and Safety
At Smurfit Kappa, Health and Safety is a core value, not just a priority. We promote a Health and Safety culture founded on authenticity, empowerment and accountability, and believe that operating safely is non-negotiable. Our ultimate goal is zero accidents globally, and to make Smurfit Kappa the safest company in our industry.
Employee engagement
Employee engagement is one of the pillars of our business strategy, and is informed by our company-wide engagement survey 'MyVoice', which we launched in 2014 and followed up in 2017.
During the year we:
Achieved our five-year target to reduce the LTA (Lost Time Accidents) frequency rate by 5% annually
Introduced a new Health and Safety target to reduce TRIR (Total Recordable Incident Rate) globally by 5% from 2018 onwards.
Executed our second MyVoice employee survey with a 84% response rate globally
Piloted a new leadership model targeting women in leadership.
Looking ahead
While we introduce TRIR as target, we will continue our focus on zero fatalities and reduced LTAs, and strive to offer all employees the chance to improve their skillsets and knowledge.